Robert "The Ghost" Guerrero was honored by the WBC today in Mexico City, as he officially received his world title belt after defeating Selcuk Aydin last month in San Jose. It was announced earlier in the week that he would be heading down at the invitation of Jose Sulaiman and the WBC organization to receive the belt in person.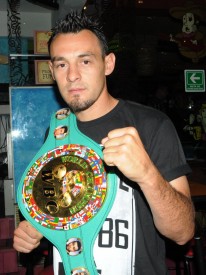 "I want to thank the WBC and their entire organization along with Golden Boy Promotions, for giving me the opportunity to fight for the WBC title. I take great pride in wearing the green belt and will continue to fight the best that come my way."
The Guerrero vs. Aydin fight was for the WBC interim belt, as Floyd Mayweather still owns the full title. That puts Guerrero in line to face Mayweather, or to get the full belt outright, most likely. The way they were dealing with this would seem to suggest the latter.
Meanwhile, news on Mayweather's next opponent, or fight date, has been nonexistent. A fight against Guerrero would actually be one of the better fights for Mayweather to make should he desire to continue campaigning at the welterweight division, and it would be good for him and for the whole sport to have him back in the ring.
But it seems as if he's more comfortable simply taking the rest of the year off, and biding his time to see how bouts such as Pacquiao-Marquez 4 and Cotto-Trout play out before making his next move. I'd still wager that he'd love to face Saul "Canelo" Alvarez in a big money fight next May.