Robert Guerrero vs. Selcuk Aydin Live on Showtime from San Jose
On Saturday night, Robert Guerrero met Selcuk Aydin for the interim WBC Welterweight title. The fight marked Guerrero's debut in the division and return from a long hiatus, and it marked Aydin's first shot at the big-time. With a lot at stake for each man, take a look to see how the Guerrero vs. Aydin results played out. On the undercard, undefeated prospect Shawn Porter was also in action, taking on veteran Alfonso Gomez.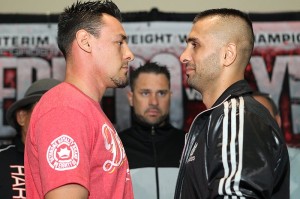 Guerrero vs. Aydin
Robert "The Ghost" Guerrero won a hard-fought 12-round unanimous decision over Secuk Aydin to claim the interim WBC welterweight title. It was a grueling victory that forced Guerrero to call on all his inner desire to thwart the raw, but impassioned challenge of the previously unbeaten challenger.
This was Guerrero's first fight at 147 after jumping two weight classes. His previous two weigh-ins saw him come in at 133 and 134. It was also his first fight in 15 months. The unbeaten Aydin, 23-0 (17) seemed like a robust entrance exam into the treacherous waters at 147. And he was.
Guerrero, 145.75 and Aydin 146.5 meet in ring center to open the fight. The taller Guerrero, 29-1-1 (18) opens jabbing. Aydin bulls his way inside. He lands a few to the body. Punches are flying early. The southpaw Guerrero lands a left and a few right hooks. Being a lefty, he is a little open to Aydin's right, which has found a home a few times. The battle lines are set–Guerrero's speed and sharpness against Aydin's determination and strength. Aydin is very raw, but also very aggressive. Guerrero's round.
Guerrero opens the round with a long right jab. Guerrero's combinations are getting going. When Aydin bulls his way inside, the action gets untidy, which could be a factor in the fight. Aydin is missing a lot. The speed and sharpness differential is starting to become glaring. Guerrero is pecking away at Aydin. Then with a few seconds left in the 2nd, lands a nice left hook. 20-18, Guerrero.
Guerrero is again dominating, increasingly keeping the fight on the outside and dictating the exchanges. Aydin does manage to land some clubbing rights in close, however. He is also smartly going to the body of Guerrero. Guerrero's combos are far more eye-catching than Aydin's sporadic right hand clouts. 30-27 for the "Ghost."
Better 4th for Aydin, who zeroes in with, what else, the right hand. Eschewing movement, Guerrero unwisely is engaging Aydin inside. While having moments, he is right in Aydin's wheelhouse and eats some big rights for his efforts. Guerrero and Aydin, who have been staring each other down after every round have some bad blood here. It may have worked out to Aydin's advantage. I think Aydin landed enough rights to take the round. 39-37 Guerrero.
Aydin is putting forth a passionate effort and this has difficult night written all over it for Guerrero. Aydin is warming up to the task and less ragged than when the fight began. Big right to the body and then the head for Aydin. Thudding shots. Another to the body. And another. It's a predictable attack, but the determined Aydin is able to land it. Another round for Aydin. 48-47 Guerrero.
The sixth opened with where Guerrero wants it–at long range in the middle of the ring. A few nifty moves and combinations have him clearly winning the round. A few rights from Aydin clip Guerrero. While crisp, Guerrero is clearly not the puncher in this fight. In the final minute, Guerrero starts laying in again, which of course allowed those raw right hands of Aydin to find their mark. But it wasn't enough. Guerrero's round. 58-56.
Guerrero smartly opens the 7th peppering Aydin's body and head. Aydin is sneaking some good rights downstairs. Whereas this fight looked to be a potential sizzler early, it has slowed down considerably. Aydin starts landing uppercuts! Three of them! Guerrero looking a bit weary and not very crisp. Aydin keeps winging the uppercut and finding a home. 67-66 Guerrero. Nice round for Aydin.
Sensing a shift in fortunes, Guerrero rips combos on Aydin. Unfortunately, Aydin seems none the worse for wear even when Guerrero lands his best stuff. Perhaps tired, he is laying on the inside as both men trade blows. Guerrero throwing a lot more punches, but Aydin is ever-dangerous with that big right. Nice comeback round for Guerrero. 77-75 for the "Ghost."
It is the 9th and Aydin is moving forward. It's important to note he rarely throws much of anything for the first minute of any round. Guerrero is taking advantage of Aydin's complacency this round, landing combinations without return. Nice round for Guerrero. 87-84.
In the 10th, Guerrero continued using his far vaster skills to outbox Aydin. A big right to the body troubled Guerrero. Aydin starts turning up the heat. Guerrero is holding on a little bit. The bodyshots seem to have slowed down Guerrero is looking fatigued. A dogged Aydin takes the tenth and now looks for a late rally. 96-94 Guerrero.
The 11th opens with Guerrero on his toes. At the moment, he is keeping Aydin at the end of his shots. Aydin is putting on incessant pressure. By the end of almost all rounds, Aydin is right where he wants to be and Guerrero has to fight for his life to not fall prey to the smothering Aydin. Guerrero showing a lot of guts. But he eats a big right. Then he throws a big combination that lands on Aydin. Close round. It goes to Guerrero. 106-103, Guerrero.
The 12th sees both men trading at ring center. The action is ragged with both men tired. Guerrero is taking some shots. But enlivened by the light at the end of the tunnel, Guerrero starts ripping off combos. Aydin slams right hands into the body of a fatigued Guerrero. Big exchanges at the end. Round goes to Aydin. I had it 115-113, Guerrero. Good hard fight. The final scores were unanimous–117-111, and 116-112 (twice) for the WBC interim Welterweight Champion Robert Guerrero!
Porter vs. Gomez
In the first bout on the Showtime Championship Boxing card, Shawn Porter took on Alfonso Gomez in a 10-round welterweight attraction. Porter, 19-0 (14 KOs) is a 24-year old decorated former amateur star taking on his first name opponent in the pro ranks. Gomez, 31, and coming off a TKO loss to Canelo Alvarez 10 months ago, is looking for something to spark a career that has flattened out a bit.The former Contender star will have a few inches in height and reach on Porter, who is short for welterweight at 5'7."
Great opening round. Porter opened with superior speed, bu a clash of heads opened a cut over Porter's eye. In the second half of the round, Gomez and Porter traded, with Gomez having some good moments and doing more discernible damage. Gomez was pesky opening the second, nailing Porter with a few nice rights. Porter seems more talented, but Gomez is getting there first with his shots, showing great craft. Gomez is finding a home for the jab and the right hand. Porter is landing some nice shots too. Good fight.
Gomez opens the third with a crackling right. Gomez looks great! Porter, while a bit flummoxed, is holding his own in the exchanges, but Gomez is dictating the terms of the fight. Porter is not using movement. Gomez is leading the dance. Porter did better as the third wore on, moving his hands more. They trade right hands with :30 left. Another right by Gomez late, as he takes his 3rd straight round on my card to open the fight.
Porter seems to be quietly stamping his imprint on the fight a bit. Midway through the 4th, he made some impact with some eye-catching combinations. Porter is moving, dipping, sliding, and using angles and the fight seems to have taken on a new complexion. Big round for Porter–a potential momentum-turner.
The fever-pitch of Gomez has ebbed significantly. Couple that with the strategic awakening by Porter and we have a different fight. Gomez lands a nice right and left in the first half of the round, however, with Porter showing greater volume. Porter is in and out, completely befuddling Gomez. In the final 30 seconds, Porter pelted Gomez with shots to the head and body, with no response from Gomez. Alfonso looks on the verge of being out of this fight.
Porter keeping his distance to open the 6th. But Gomez times him with a big right! Then a left and an uppercut! Gomez lands a few jabs. Porter's command of distance is a bit off. Then again, he's a 5'7″ welterweight, which makes it hard to be a long-range sharpshooter. Gomez lands to the body and has generally been very sharp this round. This is his round. I have Gomez up 4-2. Lot of shifts in momentum for only 6 rounds.
In the 7th, another of many butts seemed to trouble Gomez, who went down as a result. Porter capitalizes and peppers Gomez with some shots. Gomez looks tired after 7 frenetic rounds and isn't getting off first this round. Gomez goes down out of fatigue and loses his mouthpiece as the 7th draws to a close.
Porter and Gomez traded to the body, but Porter seems to be getting stronger, which is more than you can say for Gomez, who already looks like he's been in a war. Gomez is a little out of range with his punches, with Porter capitalizing on his misses with nice shots upstairs and downstairs. But Porter is still giving Gomez chances inside when he neglects to move and lays in the pocket for too long. I have it even, 4 rounds apiece.
A slower ninth saw each man probing for openings. A tired Gomez again slips to the canvas. Porter is not neglecting the body, but the timing of Gomez keeps him involved, as the punches he lands are often more telling, despite a decent deficit in the punch-stat numbers. With just a little time left in the ninth, Porter's cut turned into a gaping wound. After consulting with the doctor, it was allowed to continue. Wow. I have Porter up, 86-85. Doctor seems clueless.
Gomez opens the 10th strongly, energized a bit by the cut. Both have their moments in the first half of the round. It's an untidy round. Doctor visits, mouthpiece replacements, and breaking up of clinches. It was a tough round to score. I called it even. I had Porter eking it out 96-95. Scores were unanimous, 96-94, 97-93, and 98-92 for Porter. Good fight. Porter goes to 20-0 (14 KOs), with Gomez slipping to 23-6-2 (12 KOs).
Thanks for checking out our recaps of Porter vs. Gomez and the Guerrero vs. Aydin results. Be sure to keep on coming back in the next few days for more post-fight coverage and analysis.