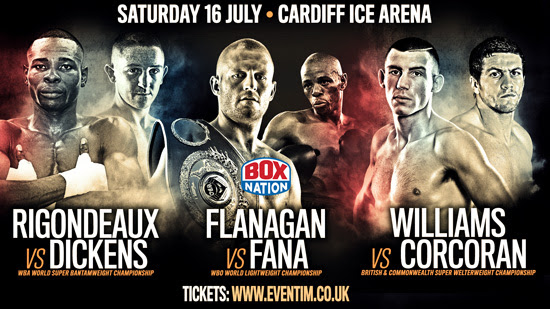 Rigondeaux: "Dickens is the only 122 pounder in the world that has the courage to take me on."
Dickens: "I'm the massive underdog. I'd just like to say to all the youngsters out there don't be afraid to chase your dreams."
Cuban boxing great Guillermo Rigondeaux came face-to-face with Liverpool's Jazza Dickens at today's press conference ahead of their WBA Super Bantamweight Title showdown at the Cardiff Ice Arena this Saturday.
Rigondeaux, renowned worldwide for his devastating hand speed and lightening quick reactions, heaped praise on his challenger for stepping up to the plate to take him on. The undefeated two-time Olympic Gold Medalist blasted his rival super-bantamweights for avoiding him; labeling them as cowards.
"I would like to show my respect and gratitude to Dickens for having the courage to take this fight," said Rigondeaux. "Dickens is the only super-bantamweight in the world that has the guts to step in the ring with me. All of the others like to talk and talk but they don't have the courage to actually fight. They know where to find me; I'm here and I'm ready to face anyone in the world. I'm quicker than Fedex and better than UPS.
"The Welsh fans are going to get an amazing show. We had an amazing training camp and I'm really excited to be here as I know you guys are massive boxing fans and I really appreciate all of the support. I'm ready to go!"
In a real 'Rocky' story Dickens heads into the fight as the massive underdog against Rigondeaux, but has a once-in-a-lifetime opportunity to rip up the script and catapult himself into the world's elite by defeating the Havana hitman.
"I believe it is God's will for me to take this fight," said Dickens. "I've been dreaming of a fight like this since I was a little kid and I'm extremely grateful to all those who made this fight possible. We have a good game plan going in there and we're confident we can cause an upset.
"I'm the massive underdog. I'd just like to say to all of the youngsters out there, don't be afraid to chase your dreams and always believe in yourself. I've worked for this shot my whole life and I intend on grabbing it with both hands."