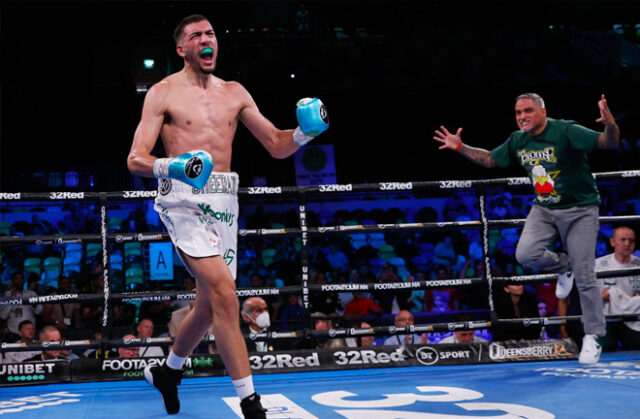 Hamzah 

Sheeraz

 headlined the Frank Warren promoted bill at the Copperbox in London last night, taking the vacant WBC Silver middleweight title with a fifth round stoppage of Francisco Emanuel Torres in a wild fight that included four knockdowns.
Sheeraz had made serene progress in professional boxing to date, while Torres was coming off a ten round draw with Jose Benavidez Jr coming into this.
Sheeraz (16-0, KO12) made a measured start, and after a quiet opener, a straight right hand wobbled the visitor in the second, and the Argentine was down in the third from a Sheeraz left hand. Sheeraz made the mistake of going for the finish, and Torres scored a knockdown of his own with a counter right hand.
.@sheeraz_hamzah is really starting to look the real deal 🙌 pic.twitter.com/cCL4sVjQfy

— Boxing on BT Sport 🥊 (@BTSportBoxing) July 16, 2022
It was a flash knockdown, and Sheeraz nailed Torres (17-4-1, KO5) with a hard right hand for the third knockdown of the frame. After a milder fourth, Sheeraz against exploded into action, finishing the fight as he detonated a massive right hand that dropped Torres yet again, but this time, the referee called a halt to the action.
Watch the full fight back here:

In what could have been the main event in its own right, Mark Heffron (28-2-1, KO22) won the British, Commonwealth and vacant IBF Intercontinental super middleweight titles, with a fifth round stoppage of Lennox Clarke (20-2-1, KO8).
Heffron hurt Clarke as early as the first round with a solid right hand to the head, and the pair took turns to dish out punishment, but Heffron always looked a step ahead, and hurt Clarke again in the fourth with body shots. A left hand disorientated Clarke in the fifth, and a follow up attack with volleys to head and body forced the referee's intervention, much to Clarke's protestation. It was third time lucky for Heffron, who had failed in two previous attempts at the Lonsdale Belt.
Huge stoppage for @Markheffron91 💥

Lennox Clarke, his corner, and the fans aren't happy with the ref 🤬

Early? pic.twitter.com/TTBdYmesYb

— Boxing on BT Sport 🥊 (@BTSportBoxing) July 16, 2022
Dennis McCann (13-0, KO7) claimed the vacant WBC International Silver featherweight title, as he ground down and stopped James Beech Jr (14-3, KO2) in the eighth round. McCann stunned Beech early on, and swarmed all over the Midlander until he eventually touched the canvas. McCann dominated the fight, and scored another knockdown in the eighth with a chopping right hand, and although Beech beat the count, a follow up attack drew the towel to come in from Beech's corner.
Look at this for a shot 🤯@ODennismccann pic.twitter.com/3xf0PrMSkS

— Boxing on BT Sport 🥊 (@BTSportBoxing) July 16, 2022
Nick Ball (16-0, KO9) backed up his impressive stoppage of Isaac Lowe in his last fight, and retained his WBC Silver featherweight title with a twelfth and last round stoppage of Nathanael Kakololo (14-4-1, KO6). A right hand jarred the visitor in the final frame, and a follow up attack left Kakololo defenceless, and the referee correctly stopped the fight.
Nick Ball finally gets the stoppage!

Nathanael Kakololo is one tough guy but the Scouser came through in fine style 💥 pic.twitter.com/U2fGXs5g3z

— Boxing on BT Sport 🥊 (@BTSportBoxing) July 16, 2022
Pierce O'Leary (10-0, KO6) lived up to his nickname of 'Big Bang', as he stopped Robin Zamora (17-15, KO8) in the second round of their scheduled eight rounder at super lightweight. A stiff right hand froze Zamora, and the referee wisely called the contest off immediately.
Statement. Made.

Robin Zamora is at sixes and sevens after Pierce O'Leary catches with him a BRUTAL right hand 🤢#FightNightLive pic.twitter.com/wliedHyZWT

— Boxing on BT Sport 🥊 (@BTSportBoxing) July 16, 2022
Ryan Garner (12-0, KO6) took every round of eight at featherweight against Christian Lopez Flores (13-19-2, KO11).
Karol Itauma (8-0, KO6) is one to watch, and the light heavyweight stopped Michal Gazdik (6-24-1, KO4) in the fourth round of their scheduled six rounder at light heavyweight. Masood Abdullah (5-0, KO4) went the distance for the first time in his career, and was pushed hard by Tinko Banabakov (3-1, KO0) at featherweight, taking a 77-75 win.
Sean Noakes (2-0, KO1) remained undefeated, and scored an impressive stoppage win in the second round against the usually durable MJ Hall (2-85-2, KO0) at welterweight. Also at welterweight,  Khalid Ali (3-0, KO2) halted Des Newton (8-25, KO2) in the second round.
The wonderfully named Sonny Liston Ali (4-0, KO0) continued his education, taking a 60-55 win over Chris Adaway (10-73-4, KO1) at super lightweight. Umar Khan (4-0, KO) was dropped in the second round, but eventually took a six round points win at featherweight against Engel Gomez (8-13-1, KO4).