Devin Haney proved that he is not just another hype job in a truly dazzling performance against Zaur Abdullaev to become the WBC world interim lightweight champion of the world at the Hulu Theater at Madison Square Garden in New York on Friday night. 
"The Dream" put on a thorough boxing clinic that finally ended in the fourth round after Abdullaev's corner summoned the ringside physician to examine their fighter for what turned out to be a fractured cheekbone. 
The bout was effectively stopped at that point thus awarding the Las Vegas resident the stoppage victory.
"I wasn't nearly done beating him," the 20-year-old Haney said. "I was just warming up."
The win improved Haney's ledger to 23-0, 15 KOs while Abdullaev fell to 11-1, 7 KOs. Haney now becomes the mandatory challenger to unified world lightweight champion and pound-for-pound king Vasyl Lomachenko.
"Nomachenko because he doesn't want to fight me," Haney said in the ring during the post-fight interview. 
"Nomachenko – come on," he added, "let's get this fight going."
Haney got out early in the fight and quickly established the jab which he initially used to feel Abdullaev out before doubling up later to snap Abdullaev's head back in the first round. 
Haney continued his fistic assault in the second but started to mix it with powerful left-right combinations. A blistering overhand right got Abdullaev's attention as it detonated off his chin and Haney had already slipped away before he even had time to react. 
Haney would continue to stick and move with lightening quick jabs out of the pocket throughout the night much to Abdullaev's frustration who was just too slow to effectively counter. 
Abdullaev's corner began to admonish him to make it a fight which must have been hard to do because his opponent was very elusive. The Russian tried to answer by going to the body, but Haney offset that with a pair of hard hooks of his own. 
Abdullaev finally landed a left in the fourth to no avail as Haney simply went back to the jab abruptly ending any offence that his opponent could mount.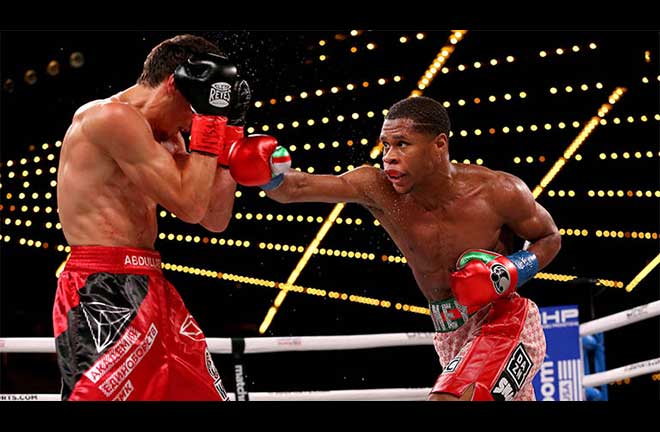 The accumulated damage from Haney's punches had begun to take their toll as a steady stream of blood dripped from Abdullaev's nose. More unanswered jabs to the head with hooks to the body followed as the match really began to morph into a complete blowout. 
A dejected Abdullaev went back to his corner after the fourth and did not return as early word came that his nose had been broken and the possible fractured cheekbone. 
It was not clear when exactly the fracture occurred but that minor detail did not matter in the end because Haney was so dominant. 
Yes, the fight was a bit anti-climatic since Haney never got to fully unveil his full arsenal, but it was basically over before the halfway mark and Abdullaev did not show much at all in this fight. 
Haney was the big favorite going into the fight although it was hard to predict the way he would triumph given the obscurity of his opponent. 
Now we know that Devin is a special fighter with considerable skills and power along with a ring IQ beyond his years. 
A clash with Lomachenko is likely out of reach for now despite Haney's bold proclamations but we'll get a chance to watch this rising star again on November 9 on the Logan Paul vs KSI undercard. 
Comments
comments