Happy birthday to Vitali Klitschko. The long-time heavyweight champ and elder Klitschko brother turns 42 years old today. Despite the age, he has shown no signs of slowing down in the ring. The question remains though, will we be seeing him in the squared circle anytime soon, or ever again? If so, how many more fights does he have left in him, and who's a worthy challenger that would get fight fans excited?
Klitschko hasn't fought since he met the woefully outclassed Manuel Charr in September 2012. There's nothing in the schedule now for him, either, as he has been pondering and pursuing a political career as opposed to the sweet science.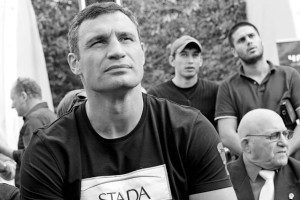 While American fight fans have never been overly enthused by the brothers Klitschko, they certainly would still want to see Vitali back in action once again. If David Haye defeats Tyson Fury in their highly anticipated clash, then perhaps we'll see the long rumored, on again, off again fight between Vitali and Haye. There certainly wouldn't be too much interest in a rematch between Wladimir and Haye, as the first fight was so awful.
Beyond that, there's not a whole lot of potential fights which would really move the dial, and perhaps that's why, more than anything else, Vitali is taking his time considering the future and seems to be headed towards a political fight rather than a fistic one.
Happy Birthday Vitali Klitschko. Enjoy the day, and hopefully you'll be celebrating and getting motivated for a return to the ring.
You can find more famous birthdays at FamousBirthdays.com.