Controversy, racism and outrage in the boxing world… it must mean a Bernard Hopkins fight is coming up.  Ever since Hopkins was given the opportunity on the big stage against the great Felix Trinidad, he has captivated the public not only with his in the ring performances, but also with his controversial actions and outrageous statements.  Who can forget in the build up to the Trinidad fight when, in Puerto Rico, he took the Puerto Rican flag and threw it to the ground, causing him to be escorted by police back to his hotel room.  That would only be the beginning to what would be one of boxing's most stellar and controversial careers.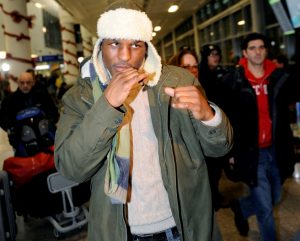 Hopkins, now 46, looks to break George Foreman's record of oldest boxer to win a title this Saturday by taking on Jean Pascal in a rematch of a controversial decision where most saw Hopkins win, but the judges saw it as a draw.  In typical Bernard fashion he has resorted to controversial comments centered around racism in order to promote the fight, like he did with Joe Calzaghe, famously claiming "I'll never let a white boy beat me."
The difference this time is that Hopkins seems to have confused opponents for his May, 21st showdown, as the guy he is berating in the media is current Washington Redskins quarterback Donovan Mcnabb. During a recent media session, Hopkins rambled for almost seven minutes, putting down the former Eagles quarterback, claiming Mcnabb lacked heart because of his suburban upbringing and basically challenging his blackness.
According to Hopkins, in football much like boxing, it's more favorable to come from humble beginnings, mostly because someone "from the suburbs" lacks the grit and heart to make it.  Hopkins continued his rant, stating, "Look at professional boxing. I've never seen a suburban boxer be successful.  There has to be something in the DNA of the person's experience, of what they overcame, to have that grit; like, I'm going to bite down and let it happen."  After Hopkins' verbal assault, Mcnabb sent out a press release stating, "Donovan's parents are proud Americans who worked hard to give their sons the best childhood they could provide.  He is unapologetically proud of sacrifices they made for him. Donovan and his brother were raised to be hard-working African-American men who were taught to believe in themselves."
While Hopkins was distracted with McNabb, Pascal, Hopkin's actual opponent, has taken on the role of instigator  by challenging the former champion to "take the tests!", basically accusing Hopkins of taking performance enhancing drugs.  In their latest press conference, Pascal got on the microphone and yelled that at Hopkins, resulting in a confrontation which ended in a shoving match between Pascal and Hopkins.
The twist here is that after years of Hopkins being able to walk in and out of his opponent's head like it was his own living room, it appears Pascal is the one with the mental edge going into the May 21st fight. He has made the fight extremely personal, accusing Bernard of taking steroids and insulting his entire legacy. He has gotten under Bernard's skin, something you can clearly see in HBO's face-off with Max Kellerman where Hopkins was so mad he wanted to leave the interview.  Maybe now Hopkins  regrets focusing his 7 minute rant on the wrong guy, as it cost him an advantage he usually has heading into fights.
Indeed, there is a feeling in the air, probably the same feeling the captain of the Titanic had when he saw that iceberg, a feeling of an unavoidable collision, an unpredictable encounter, a volatile meeting.  Their first fight was action packed, full of drama, twists and turns.  With more at stake in the rematch, we can expect an equally entertaining fight with either a historic ending or a new beginning.