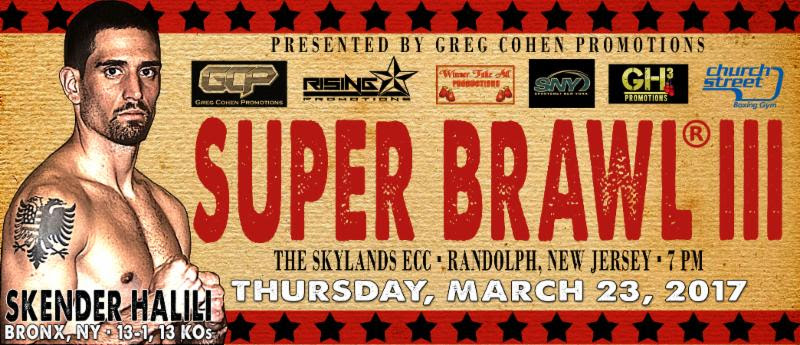 Having grown up the son of a former undisputed and two-time World Heavyweight Champion, Hasim Rahman Jr., doesn't mind that the world will be watching from the beginning of his professional boxing career.
"This isn't new," explained Rahman. "I'm so used to being who I am and having eyes on me that it would be awkward to not have them. It hasn't mattered who I was my whole life, or what I did. The world was watching because of who my father is."
Rahman Jr., whose father, Hasim "The Rock" Rahman famously knocked out Lennox Lewis in April 2001 to win the WBC and IBF Heavyweight Championships, will make his professional debut against Kansas City's Brian Imes (1-4, 1 KO) on Thursday, March 23, 2017, at Greg Cohen Promotions' SUPER BRAWL® III, boxing event at the Skylands Event & Conference Center (ECC) in Randolph, New Jersey.
Presented in association with Rising Promotions and GH3 Promotions (sponsored by David Schuster's Winner Take All Productions), SUPER BRAWL® III will also feature the Bronx, New York's Halili brothers: power-punching super-welterweight action hero Skender Halili (13-1, 13 KOs) taking on Ecuadorian veteran Eduardo "El Cheíto" Flores (25-25-3, 15 KOs) in the eight-round main event, and undefeated Enver Halili (8-0, 2 KOs) facing Nicaragua's Ariel Vasquez (13-16-2, 9 KOs) in the six-round welterweight co-main.
Tickets for SUPER BRAWL® III are priced at Golden Ringside $150, Ringside $100 and General Admission $50 and can be purchased by calling the GCP office: 212.851.6425 or online at gcpboxing.com.
"My dad is like an advisor," he continued. "My dad is the only person I know that truly has my best interests at heart. Anybody else I ever dealt with, it always came down to money at the end of the day. My dad never asks me for anything. I know he knows the game and I know that with him on my team, the sky is the limit."
25-year-old Rahman is getting a later-than-expected start at his highly-anticipated boxing career. Coming off his successful 100-fight run as an amateur, the buzz was all around the 6′ 3″ 250-lb. fighter, but a fatal car accident in 2012 saw him serving a 2- to 5-year sentence with the Department of Corrections.
Recently released and now ready to go on with life, Rahman says the entire experience changed him for the good. "It was an eye-opener for me. Going through that really changed my career and how I felt as a person, and a son, a father, and a husband. It changed me. I am grateful god blessed me to be in this position today."
Rahman says he doesn't know much about first opponent Imes, but he and trainer Kenny Ellis are hard at work at Upton Boxing Center in Baltimore.
"I feel great. I'm really anxious, but the nervousness hasn't kicked in. It will around fight time. My team says it's a good fight for me. Being off for two and a half years, I'm looking to get in some rounds."
Despite the delayed start, Team Rahman has no plan on rushing things.
"I just want to stay busy as I can and learn as much as I can and fight for a world title when I'm ready. I'm not going to rush. There's no rush. It's not like I'm going to wait forever. I will fight for the title when I'm ready and I know if it put in the work, I'll be ready in a about two years. That's the goal for me. If it takes three or four years, it does. Whatever the case may be. I'll keep racking up the knockouts until it happens."
For Rahman, the decision to follow in his famous father's footsteps was a rational one.
"I've always been taught to plan ahead. When I was in middle school, I was really into football. I played tight end, running back and wide receiver. I had dreams. But it dawned on me how many people have the same dream that I do. For instance, there are a million young African American men wanting to go to the NBA every year. 400,000 of them will play high school basketball. 4000 of those will play college. 35 will be drafted. Out of the that 35, only 7 will start. That means there are a million people trying to get 7 jobs. And the average career in the NBA is four years. That's a problem. People have to look at their odds. I did. So, I said 'know what? Instead of being in this giant pool of people trying to be the next Ray Lewis. I rarely run across someone who wants to be heavyweight champion of the world,' so that's what I decided to do. No father and son duo have ever become heavyweight champions. It's never been done. For me to be in the position to cement our family name in heavyweight championship history is very motivating and I'm ready to take full advantage of it."
Signing with Greg Cohen Promotions was an easy decision, according to Rahman, who has known the Jersey-based promoter for most of his life.
"I really want to thank Greg Cohen for the chance he's given me," he said. "I've known Greg since I was a kid and he has always believed in me. He has always supported me and kept in contact and followed me. He has a real genuine interest in me. Greg already knows he has the best new heavyweight in the world. I'm really dedicated to making him and my father and the City of Baltimore proud."