In response to the news that David Haye will meet Audley Harrison in November, many fight fans in the United States are muttering "David Haye versus who?" and German and Slavic fans are taking up the chant "Haye ist Angsthase," The fight is especially galling in light of Haye past declaration that he would never fight "A-Force" Harrison, since Harrison was unworthy of standing in the same ring with him. How things change, eh? Yet viewed from a local level, Haye vs. Harrison makes plenty of sense.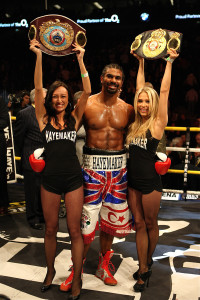 First, Audley Harrison is not a non-entity in Britain. The 2000 Olypmics Super Heavyweight Gold Medal winner never quite lived up to his hype, and few international observers have taken him seriously since he was out-boxed first by Danny Williams and then Dominic Guinn in the middle of the decade. Since then, however, he won the Prizefighter III tournament and beat Michael Sprott, avenging another loss. "A-Force" has name recognition and, more importantly, is no longer a complete wash-out in the eyes of the British public. The guy can be marketed as a viable opponent, at least to a British crowd, and never dismiss the allure of an all-British heavyweight championship in the UK. The last time such an event transpired, it was Lennox Lewis vs. Frank Bruno in 1993, and that fight was a British classic.
This is the biggest fight Harrison could conceivably get at this stage of his career, which explains why old Audley took it, but why did Haye make the fight happen? Beyond the prospect of making a bathtub full of pounds sterling, the fight has three advantages for Haye. First, in Britain Haye acts as his own promoter, so he gets paid twice for an all-British fight. Haye also owes the German promoters Sauerland a slice of the pie for his next two fights. Duking it out with Harrison settles half of that debt, and under circumstances where it does not put Haye in the poor house. Finally, despite his lackluster resume and his 38 years, Harrison is still a 6'5″, almost 18 stone (250 lbs.) man. The guy is big, strong, has a good jab, and therefore makes for good practice if Haye should have a showdown with some giants over in Germany the near future.
P.S.
Fight fans should also keep in mind that should Haye get past Audley Harrison, the Klitschkos are not next on his dance card. Haye will almost certainly be taking on Ruslan Chagaev instead. A former champion, Chagaev is the WBA's #1 contender and Haye needs to fight him sometime before or about April 2011.