HBO and Golden Boy Promotions have parted ways, a huge move in the industry which is sure to lead to only more turmoil. As the existing Top Rank vs. Golden Boy feud has already torpedoed a great deal of the best and biggest fights that fans want to see, this move creates even more distance between those camps.
On HBO, you'll be watching Top Rank fighters. On Showtime, you'll be watching Golden Boy fighters. Don't expect to see a great deal of intermingling there, if any at all.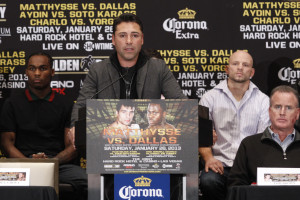 The move is both expected and surprising at the same time. It's expected, because since Floyd Mayweather switched ships and joined up with Showtime, it seemed that the writing was on the wall for more Golden Boy fighters to do the same thing.
Mayweather and Saul "Canelo" Alvarez are on a Showtime-fueled collision course, should they each win their next fights. With Robert Guerrero fighting Mayweather on Showtime, and many of the top Junior Welterweights in the world in their stable, there's a lot of synergy to build on right away.
Plus, following the Bantamweight Tournament, Abner Mares already has a well known Showtime presence, and of course his next fight against Daniel Ponce de Leon is on the Mayweather vs. Guerrero Pay-Per-View.
When you throw Adrien Broner in the mix, suddenly Showtime could be home to many of the best and biggest names in the sport. It's a lot of talent for HBO to willingly say goodbye to, but apparently, the demands from Golden Boy financially and otherwise were too great. HBO may also be banking on the chance that Broner leaves Golden Boy, and aligns himself with SMS Promotions and 50 Cent.
On the other hand, it's surprising, because HBO and Golden Boy have worked closely together for a decade. The network largely helped to build the fledgling company when De La Hoya put it together.
And while trying to work with Mayweather and his team has always proved a frustration, Bob Arum and Top Rank haven't exactly been easy to deal with, either. They have a penchant for putting together plenty of A-name mismatches, bringing their prospects along painstakingly slowly, and they themselves temporarily brought Manny Pacquiao to Showtime before coming back to the HBO camp.
Whichever of the two major networks the biggest stars fight on, fans will watch. That's for sure. The bigger aspect of the HBO and Golden Boy split, in my mind, is the increasing divisiveness and factions in the industry. Any hope that the Top Rank-Golden Boy fiasco comes to an end sooner than later has been lost.
Comments
comments