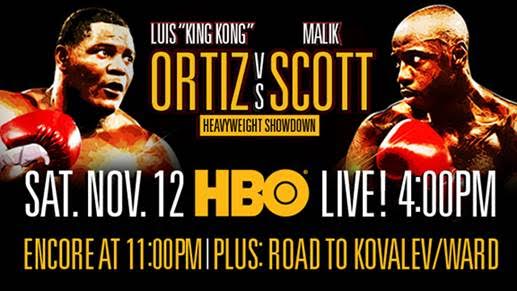 Knockout machine Luis "King Kong" Ortiz is one of the most exciting fighters in the tradition-rich heavyweight division. Now, he makes his first ring appearance across the Atlantic when he faces Malik Scott from the Salle des Etoiles in Monte Carlo, with an evening replay at 11:00 p.m. (ET/PT).
Luis "King Kong" Ortiz (25-0, 22 KOs), 37, originally from Camaguey, Cuba, and now living in Miami, Fla., meets Philadelphia's Malik Scott (38-2-1, 13 KOs) in a scheduled 12-round contest. Currently boasting a knockout-to-win ratio above 80%, the dangerous Ortiz is on a quest for worldwide recognition and title belts. Scott, 36, is a seasoned pro who fought 13 years before absorbing his first loss in 2013.
The Monte Carlo telecast continues HBO's initiative of presenting intriguing fights from across the Atlantic in the late-Saturday afternoon time slot. In the past three years, HBO Boxing has also visited London, Moscow, Hamburg and Dusseldorf.
Fight Week Quotes
Luis Ortiz says he'll rule the Heavyweight division in 2017 as he prepares to take on Malik Scott in Monte-Carlo on Saturday night..
Ortiz is one of the most feared fighters on the planet and has blasted away 22 of his 25 opponents inside the distance, with the vicious Cuban's last two outings underlining his fearsome reputation as dismissed Bryant Jennings in seven rounds to land the interim WBA crown in December and then destroyed Tony Thompson in six rounds in March.
'King Kong' is hunting down World honours and makes his European debut against Scott his first fight under the Matchroom banner and the 37 year old monster revealed his excitement at his upcoming schedule.
The Heavyweight division was thrown wide open when Tyson Fury ended the long-standing reign of lineal champion Wladimir Klitschko in Germany in November 2015. A slated rematch between the pair failed to happen though and with Fury now out of commission as he deals with personal issues outside the ring, the throne sits vacant waiting for a new king to emerge – and Ortiz believes he's the man to beat the likes of Anthony Joshua MBE, Deontay Wilder and Klitschko and rule the world.
"I want to fight the very best and I want to be the Heavyweight champion of the world," said Ortiz. "I'm willing to fight anyone, any champion, any place, any time. I'm ready for anyone: Joshua, Wilder, Klitschko. I know I can beat all of them.
"I feel I have been at my peak for many years now. I have simply been late arriving on the US Heavyweight boxing scene. I have been fighting since I was in elementary school. Boxing is a very, very deep passion of mine.
"Now, it is a way to give my family a better future, and I tell you, no one will stand in my way of accomplishing this. In my eyes, I am the Heavyweight champion of the world and if anyone, any other champion, is willing to challenge me, to face me, I can and will prove it.
"I do have a lot of respect for the Heavyweight champions. They have accomplished a lot and have sacrificed a lot to be where they are. They do deserve recognition. I just want the chance to beat them and be [seen by all as] the next true Heavyweight champion.
"I think Fury was able to shake up the Heavyweight division and because of him, the division is now one of the most exciting divisions to watch! I just want to get the opportunity to face him, or Wilder, to prove I am a champion as well."
Malik Scott says that his best years are still to come – and he'll prove that by handing a first loss to dangerous Heavyweight Luis Ortiz.
American star Scott recorded impressive back-to-back wins over Alex Leapai and Tony Thompson in his last two outings to get in the frame for a big-time outing, bouncing back from a first round loss to Deontay Wilder back in March 2014.
Ortiz has been dubbed the most avoided Heavyweight on the planet, but Scott insists that this is a fight he's wanted and the Philadelphian believes that beating Ortiz can be the springboard to him winning World titles, not 'King Kong' Ortiz.
"I don't want people to get the wrong end of the stick – I picked to fight Luis Ortiz," said Scott. "People have crowned him as the next king of the Heavyweight division, so that's the kind of guy I want.
"Is he the most feared? Anyone will fight him but for the right amount of money. He's a 6ft 4in Cuban southpaw – he's got a hell of a pedigree, he can fight and he's dangerous – but that makes me want to fight him. I gravitate to risks like this, because the rewards out there are huge.
"I went to Australia and beat Leapai, I came home to beat Thompson who had just beat Odlanier Solis, another guy that had been hyped. People said that Thompson would beat me, I gave him a clinic. Ortiz is dangerous, but a punch at Heavyweight can change everything. He doesn't know what it's like to sit on the shelf and wait for a fight, get messed around by opponents. I am just as hungry as he is."