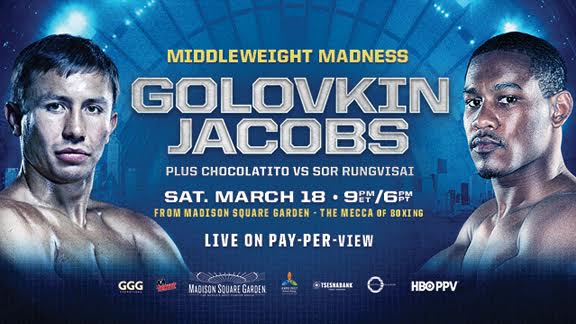 HBO Sports is the fight fan's destination for Gennady Golovkin vs. Daniel Jacobs fight week news and information, providing viewers with an in-depth look across television, digital and social platforms at the blockbuster middleweight championship showdown set for Saturday, March 18 from the Mecca of Boxing, Madison Square Garden. The mega-event will be produced and distributed live by HBO Pay-Per-View beginning at 9:00 p.m. ET.
Fans will have access to original programming, specials, updates from HBO Boxing Insiders and exclusive videos leading up to fight night. There will also be behind-the-scenes photos, videos, live streams and other customized content available.
The HBO Boxing Podcast will have daily episodes throughout fight week, including live episodes on the ground from New York City.
Pre-Fight Week
· HBO Boxing Podcast – "Top 5 Most Avoided Fighters/Top 5 Comebacks"
· HBO Boxing Podcast – "Interviews with Tom Loeffler and Chris Algieri"
· State of the Middleweight Division; www.InsideHBOBoxing.com
· The Secret to GGG's Power? Perfect Balance; www.InsideHBOBoxing.com
Monday, March 13
· Final Press Conference Live Stream – 12:00 p.m. ET/9:00 a.m. PT
· HBO Boxing Podcast – "State of the Middleweights"
· Fight Overview: Golovkin vs. Jacobs; www.InsideHBOBoxing.com
Tuesday, March 14
· 2 Days: Chocolatito Gonzalez – 10:05 a.m. (ET/PT) HBO2 & 9:35 p.m. (ET/PT) HBO
· HBO Boxing Podcast – "Official Fight Preview"
· CompuBox: A statistical breakdown of Golovkin vs. Jacobs, including performances in previous fights; www.InsideHBOBoxing.com
Wednesday, March 15
· 24/7 Golovkin/Jacobs – 11:30 a.m. (ET/PT) HBO
· 2 Days: Chocolatito Gonzalez – 9:30 p.m. (ET/PT) HBO2
· HBO Boxing Podcast – "Golovkin-Jacobs Mailbag"
· Undercard Overview: www.InsideHBOBoxing.com
Thursday, March 16
· 2 Days: Chocolatito Gonzalez – 3:05 p.m. (ET/PT) HBO
· 24/7 Golovkin/Jacobs – 3:30 p.m. (ET/PT) HBO
· HBO Boxing Podcast – Pound-for-Pound Discussion
· Golovkin and Jacobs Fight for New York; www.InsideHBOBoxing.com
Friday, March 17
· Official Weigh-In Live Stream – 9:00 a.m. ET
· Golovkin/Jacobs Programming Stacks on HBO
o 24/7 Golovkin/Jacobs – 4:30 p.m. (ET/PT) HBO
o 2 Days: Chocolatito Gonzalez – 5:00 p.m. (ET/PT) HBO
· Golovkin/Jacobs Programming Stacks on HBO2
o 24/7 Golovkin/Jacobs – 12:25 a.m. (ET/PT) HBO2
o 2 Days: Chocolatito Gonzalez – 12:55 a.m. (ET/PT) HBO2
· HBO Boxing Podcast – "Post Weigh-In Discussion"
· Weigh-In Coverage; www.InsideHBOBoxing.com
· Writer Prediction Round-Up; www.InsideHBOBoxing.com
Saturday, March 18
· Golovkin/Jacobs Programming Stacks on HBO
o 24/7 Golovkin/Jacobs – 5:00 p.m. (ET/PT) HBO
o 2 Days: Chocolatito Gonzalez – 5:30 p.m. (ET/PT) HBO
· Golovkin/Jacobs Programming Stacks on HBO2
o 24/7 Golovkin/Jacobs – 10:10 a.m. (ET/PT) HBO2
o 2 Days: Chocolatito Gonzalez – 10:40 a.m. (ET/PT) HBO2
· Facebook Live Event with Max Kellerman; www.FaceBook.com/HBOBoxing (prior to start of Pay-Per-View telecast; approximately 5:30 p.m. ET)
· Preliminary Undercards Live Stream – 7:00 p.m. ET/4:00 p.m. PT
· Golovkin vs. Jacobs Presented Live by HBO Pay-Per-View beginning at 9:00 p.m. ET/6:00 p.m. PT. Contact your Pay-Per-View Provider to order! http://www.insidehboboxing.com/golovkinjacobs
· HBO Boxing Podcast – "Live Post-Fight Discussion"
· Golovkin vs. Jacobs Recap; www.InsideHBOBoxing.com