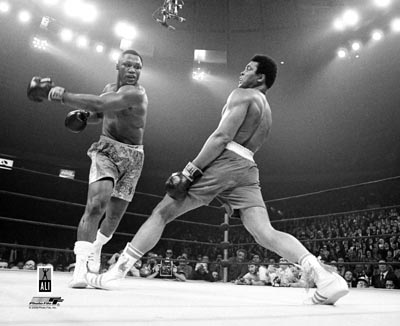 HBO Sports presents five of its acclaimed boxing documentaries on consecutive Thursday evenings this summer on HBO2. Featuring HBO Sports' trademark blend of unseen archival footage, home movies, revealing interviews and unique storytelling, the festival launches June 26 with the powerful ALI-FRAZIER I: ONE NATION… DIVISIBLE and concludes with the celebrated 2013 presentation LEGENDARY NIGHTS: THE TALE OF GATTI-WARD.
Here's the list of movies and documentaries HBO Boxing will show and their scheduling:
ALI-FRAZIER I: ONE NATION… DIVISIBLE (June 26, 7:00 p.m. ET/PT) chronicles the remarkable events and personalities surrounding the fight that reflected the cultural divide of the United States in the '60s and early '70s. Regarded by many boxing observers as "The Fight of the Century," the match featured two undefeated heavyweights squaring off at New York's Madison Square Garden in a contest that was much more than a title bout. The documentary was awarded a prestigious George Foster Peabody Award in 2001.
SUGAR RAY ROBINSON: THE BRIGHT LIGHTS AND DARK SHADOWS OF A CHAMPION (July 3, 7:00 p.m.) reviews the life of the man many consider the greatest pound-for-pound fighter in history. The Sports Emmy®-winning documentary explores his unparalleled ring career, the innovations he brought to the business side of the sport and his intriguing lifestyle.
JOE LOUIS: AMERICA'S HERO… BETRAYED (July 10, 6:45 p.m.) tells the story of the legendary boxer, born 100 years ago, and his tremendous impact on segregated America. The documentary reveals how the grandson of slaves became one of the greatest heavyweights of all time, served as an iconic figure in World War II and later carried himself with dignity and class through numerous setbacks.
KLITSCHKO (July 17, 6:00 p.m.) chronicles the dynamic brotherhood of Wladimir and Vitali Klitschko from their humble beginnings in the Soviet Union to their dominance as reigning world heavyweight champions. A production of BROADVIEW Pictures funded by FILM-UND MEDIENSTIFTUNG NRW, the documentary was directed by Sebastian Dehnhardt and nominated for the 2013 Sports Emmy® for Outstanding Sports Documentary.
LEGENDARY NIGHTS: THE TALE OF GATTI-WARD (July 24, 6:30 p.m.) revisits one of boxing's greatest rivalries: the three-fight slugfest between Arturo Gatti and Micky Ward. The blend of interviews, thrilling ring action and previously unseen archival footage presents a fresh look at the electrifying trilogy forged by two ring warriors.