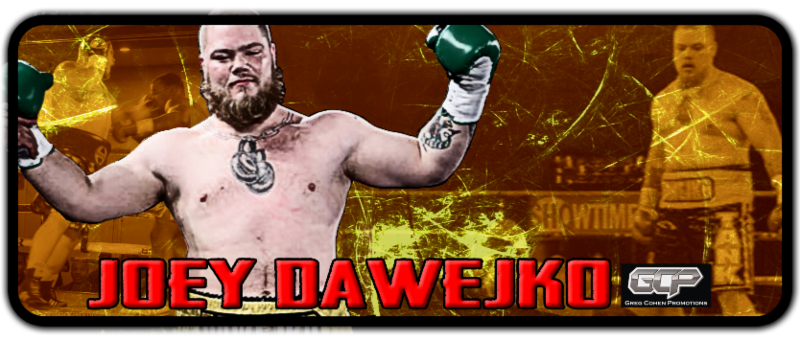 Greg Cohen Promotions proudly announces the signing of heavyweight contender Joey Dawejko (17-4-3, 10 KOs). Dawejko (pronounced Da-Vayko) of Philadelphia, has been a classic underachiever, thus far, in his professional career, but says the addition of Cohen as his promoter is just one of the changes he has made.
The 26-year-old Philadelphian has always been a talent but, admittedly, hasn't always been in the best shape for his fights. "My manager, Mark Cipparone, changed my life," he explained. "I used to take fights on a week's notice for no money, so I never gave it 100%. Plus, I was working 12-14 hours a day as a roofer. The first day I got with him, I told him I can't make the gym today because I'm going to be working and couldn't get there in time. He said 'Quit. This is your full-time job now.'"
"Everything is going to be different from now on," said Dawejko. "I'm a different person, a different fighter, different everything and I'm getting a lot better. I have a new team and I'm training out in Los Angeles. I'm living a new life and happy to finally be working with Greg Cohen. He can get me the big fights I need. It's going to be great because I just need a chance at another big-name opponent."
Despite his relatively young 26 years, Dawejko has been boxing since age nine, where he debuted as a junior flyweight. The lifelong experience enables him to use his 5′ 10″ height to work move in under the punches of today's heavyweight giants and do solid work. He managed to hold top contender Jarrell "Big Baby" Miller to a draw in 2013.
It was a decision loss to top contender Amir Mansour in 2015, however, that brought him forward leaps and bounds as a fighter.
"It was my first 10-round fight and I just wasn't myself that night. It cost me a loss, but it was probably a good thing because I learned so much from that fight. As soon as it was over, I was a better fighter. I realized what I have to do better and different."
"Joey is still young for a heavyweight," said Greg Cohen. "In the past, he hasn't been as well-prepared as he should have been and still managed to beat almost everyone he faced. A focused and determined Joey Dawejko is a problem for anyone in the world and I'm 100% sure Joey can win a world title. I'm excited to be guiding his career along with his dedicated manager, Mark Cipparone."
Dawejko says that while he's happy to be away from the distractions of home to train and finally in a position to reach his potential, he misses his young and growing family.
"My fiancée is home with my children. I have three girls, age 11, 4 and one that is 2 in April. Plus, I've got another on the way. Its' tough being away from them. I'm giving it all for them."