The final press conference was held on Thursday at Route 66 Casino Hotel in Albuquerque for Saturday night's Fresquez Productions-presented "Mayhem" show there, featuring IBA and WBF light welterweight champion Holly "The Preacher's Daughter" Holm (32-2-3, 9 KOs) defending against former NABC World lightweight title-holder "Merciless" Mary McGee (20-1, 11 KOs) in the 10-round main event.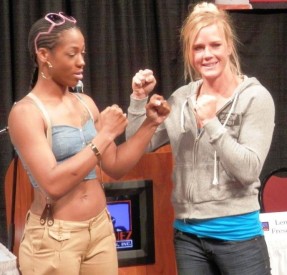 Press Conference Quotes
Holly Holm:
"I have lots of emotion surrounding this fight. Even though there's been lots of negativity around, I know I want to try a new path. I'm very proud and honored to share this with you (Mary McGee)."
Mary McGee:
"I am very happy to have this opportunity and I want to thank everyone here in New Mexico. People have always been very welcoming to me."
Fighting on the "Mayhem" undercard is a group of New Mexico's most promising prospects, showcasing Albuquerque lightweight Matthew Baca (2-1, 2 KO's) vs. Armando Gonzales (2-2, 1 KO) in a six-round bout. Also in action in four round matches are welterweight Rocky "El Torito" Romero (2-0, 2 KOs) vs. 11-fight veteran Michael Coca Gallegos, light middleweight Cris Leyva (1-0) vs. Manuel Eastman (1-3), lightweights making their professional debuts, Gabe Gabaldon vs. Brandon Salazar, and cruiserweights making their pro debuts, Manny Rocha vs. Floyd Olguin, Jr. All fights and fighters are subject to change.
Tickets, ranging between $25.00 and $200.00, are on sale and available to purchase at the Route 66 box office, going online to www.rt66casino.com, or calling 505.884.7484.