Kendall Holt made everyone's television viewing experience a little bit easier on Friday evening. Instead of juggling Friday Night Fights, Shobox and the NCAA Tournament with all of its great upsets and action, Holt made quick work out of fringe contender Tim Coleman, blasting him out in just two rounds. It's a performance that reasserts Holt's status as a player at 140 lbs.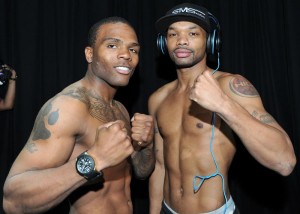 Right from the start of the fight, Holt proved to be the alpha dog in the ring. Quicker, stronger and with better boxing, he was able to do as he pleased with Coleman. With Roy Jones Jr. working in his corner, the only problem for Holt on the evening was that Roy wanted him to get some rounds. Instead, Holt finished his evening with less than two rounds of action.
He first put Coleman down in the opening stanza with a wonderfully placed left hook to the body. Coleman got up, but in the second round he wouldn't see anything better. Holt would drop him several more times until Coleman's corner threw in the towel as it was apparent that their man had little to offer – and even less desire to do so.
Last year on Friday Night Fights, Holt scored one of the knockouts of the year. So it was great to see him back in action tonight and looking to be in top form once again. The difference in class between Holt and Coleman, both generally considered in the top 10-20 range of the division, was apparent right from the start, and it was a huge gap. Congratulations to Holt on the big win, and for Coleman, he may need to reevaluate his plans.
In earlier action, undefeated prospect Abraham Lopez was lucky to remain so, surviving a tough test against Armenian Gabriel Tolmajyan. Tolmajyan lived up to his status as a trick southpaw, and seemed to be able to control much of the early portion of the fight, while landing the cleaner shots.
Lopez figured out that it was desperation time around the 6th, and came out strong until the end of the fight but focusing on pure aggression and work rate as opposed to technical boxing. He certainly put on a good show in the last few stanzas, but the scorecards that came in were a bit ridiculous.
The judges were unanimous with their verdict, 78-74, 78-74, and 79-73, and when you heard those scores, you had to figure that Tolmajyan won the fight. The bout was close, but if somebody was that far ahead, it couldn't have been Lopez, right? Well, not so fast. The cards went in Lopez's favor, and he retains his status as an undefeated prospect.
Thanks for checking out our Friday Night Fights recap, capped off by the spectacular Holt vs. Coleman results.
Comments
comments