The Evander Holyfield vs. Sherman Williams bout will be held Saturday evening, and the weigh-in for the card was held on Friday. "Redemption in America" will be available on PPV. Check out the full weigh-in results from the card, and some photos from the event as well.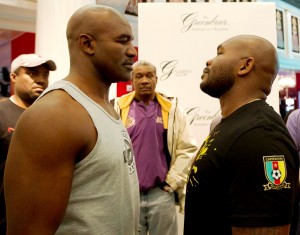 MAIN EVENT – 12 ROUNDS — PPV
Evander Holyfield (43-10-2, 28 KOs), World Federation Heavyweight Champion, Atlanta, GA   224 LBS.
Sherman Williams (34-11, 19 KOs), Challenger, Ft. Pierce, FL by way of the Bahamas   258 LBS.
8-ROUNDS – HEAVYWEIGHTS — PPV
Kevin Johnson (23-1-1, 10 KOs), Atlanta, GA   245 ½ LBS.
Julius Long (15-14, 13 KOs), Detroit, M   300 LBS.
8 ROUNDS – HEAVYWEIGHTS — PPV
Monte Barrett (34-9, 20 KOs), Jamaica, Queens, NY   228 ½ LBS.
Charles Davis (19-21-2, 4 KOs), Tucson, AZ   232 ½ LBS.
8 ROUNDS – MIDDLEWEIGHTS — PPV
Donatas Bondoravas (10-1-1, 3 KOs), Chicago, IL by way of Lithuania   160 LBS.
Willie Fortune (9-0, 5 KOs), Detroit, MI   158 LBS.
NABA HEAVYWEIGHT CHAMPIONSHIP — 10 ROUNDS
Cedric Boswell (32-1, 25 KOs), NABA Heavyweight Champion, Atlanta, GA   232 LBS.
Dominque Alexander (19-9, 9 KOs), Challenger, Topeka, KS   215 LBS.
8 ROUNDS – MIDDLEWEIGHTS
Domonique Dolton (9-0, 7 KOs), Detroit, MI   159 LBS.
Marcos Primera (20-22-2, 13 KOs), Asheboro, NC by way of Venezuela   162 ½ LBS.
8 ROUNDS – JUNIOR WELTERWEIGHTS
Miguel Gonzalez (12-2, 11 KOs), Cleveland, OH   135 ½ LBS.
Ramon Guevara (9-20-2, 6 KOs), Grand Rapids, MI by way of Dominican Republic   133 ½ LBS.
Holyfield vs. Williams Fight Information:

WHAT: "Redemption In America" PPV professional boxing show
WHEN: Saturday, January 22, 2011 – 9 PM/ET 6 PM/PT
WHERE: Colonial Hall, The Greenbrier, White Sulphur Springs, West Virginia
PROMOTER: ARK Promotions in association with The Greenbrier
PAY-PER-VIEW INFORMATION: Distributed in North American by Integrated Sports Media for live viewing at 9 PM/ET 6 PM/PT on both cable and satellite pay per view via iN Demand, DIRECTV, Avail-TVN and DISH Network in the United States, as well as Viewer's Choice and Shaw PPV in Canada, for a suggested retail price of only $29.95
"Redemption" will also be streamed live on www.NESportsTV.com outside of the United States, Canada, United Kingdom, Argentina and Brazil for $9.99 USD (International conversion rates apply)
PAY-PER-VIEW ANNOUNCERS: Al Bernstein (color analyst) and former NFL player and veteran boxing announcer Benny Ricardo (blow-by-blow)
RING ANNOUNCER: Jimmy Lennon, Jr.
TICKETS: Call 1.800.453.4858.
INFORMATION: Doors open at 6 PM/ET, first bout at 7 PM/ET, and first PPV fight at 9 PM/ET, 6 PM/PT
For more information about the Holyfield-Williams PPV event go to www.americanboxingleague.com, www.greenbrier.com, www.NCMusicFactory.com or www.integratedsportsnet.com.