Hopey Price believes that Matchroom Boxing's switch to DAZN can help turn him into a global "superstar" and admits he is eyeing domestic titles in the very near future.
Matchroom Boxing's exclusive deal with Sky Sports in the UK ended with Lewis Ritson's defeat to Jermias Ponce earlier this month, with a new five-year deal with DAZN commencing with the second edition of Fight Camp, with Price featuring on the final week of the three-part series from Matchroom headquarters on August 14.
The undefeated Super Bantamweight is excited by the prospect of campaigning on the streaming platform, which is currently priced at £1.99 per month in the UK and believes it can progress his career into superstardom in the future.
"I think everything will be bigger and better," Price told proboxing-fans.com at the Fight Camp launch press conference.
"They'll just go that little extra step and I think for someone young like myself, I need this sort of platform to make me into a world superstar, which I want to be in boxing."
Price, a standout amateur who made history by becoming the first Brit to claim a Gold Medal at the Youth Olympic Games in 2018, has excelled in the professional ranks thus far under trainer Dave Coldwell, winning his opening four bouts with one stoppage.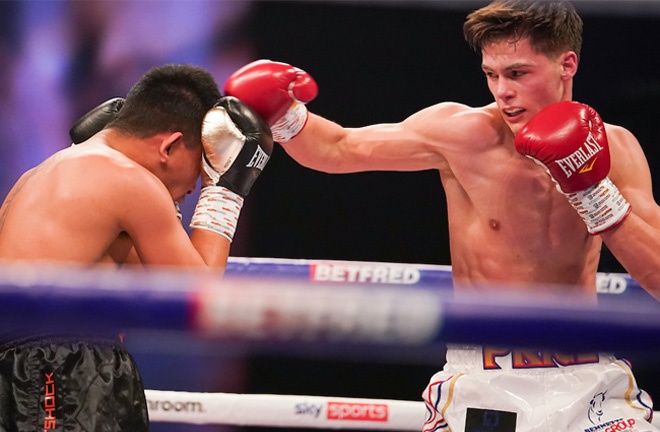 The 21-year-old beat Jonny Phillips on points at Fight Camp last year and followed this up with victory over Daniel Mendoza at Wembley Arena in February, both behind closed doors and he admits he is relishing the thought of fighting in front of a small crowd this time around.
"There was a bit of an atmosphere last time," Price recalled of his experience at Fight Camp last year.
"Whereas Wembley [Arena] on the other hand, because it was inside I felt like there was nobody there, but I think with it being so compact with the crowd here I think it'll be an unbelievable atmosphere and it'll be the first time probably in over a year, year and-a-half that we're going to have the crowds back.
"First time I'll be boxing back in front of a crowd, so I'm looking forward to it, I've missed it."
Price's fifth opponent is yet to be confirmed, although the Leeds native is hopeful of facing another opponent with ambition to showcase his skills and believes his natural ability has helped him adjust to the professional ranks.
"I want someone who's going to come and try to win.
View this post on Instagram
"I think some of the opponents have come with the intentions to win, but I think after maybe the first minute I think they've gone into a bit of survival mode, but now I am starting to step-up I'm sure people are going to come to try and win, but I think the same thing will happen.
"I think after so long they'll realise that they can't win and they will go into a shell and survival mode anyway.
"It is a whole different ball game the pros and the amateurs, but it's not so much the amateur pedigree, I think it's more of what made me win the amateur pedigree and that's my boxing brain.
"At the end of the day, boxing is boxing and when I am in there I think that's what tells the difference most of the time, I think I'm just one, two, three steps ahead of my opponent, so that's the key to it really."
Asked when he would be ready for domestic titles, Price replied: "I think the near future.
"Maybe one or two fights probably and then I'll be ready for domestic titles.
"I think once Dave does let me off the leash, there's no going back then, so whoever's in my way from then on, that's who it is."
Watch the full interview with Hopey Price below: