With American and Canadian media in attendance, Bernard "The Executioner" Hopkins hosted a media workout today at a local boxing gym in Montreal, Canada where the 46-year-old Two-Division World Champion and Future Hall of Famer discussed his championship rematch against WBC and Ring Magazine Light Heavyweight World Champion Jean Pascal which takes place this Saturday, May 21 at the Bell Centre in Montreal.  In a rare fight week occurrence, Hopkins even stopped to pose and speak with several amateur fighters and fans stating "I promise you this will be the only time you see me on my knee."
Hopkins Quotes: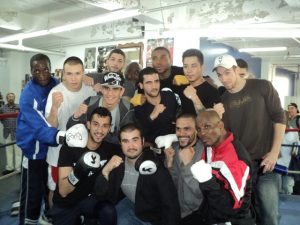 "The word 'discipline' speaks volumes about my life and my career.  The magic number 46 dictates how long the fire has burned in my belly.
"I am here today because of genetics, because of talent and mostly because of my good decisions.
"I think people have started to realize in the last three years or so that this is not normal.
"Time has passed so fast and I am still here with dignity, pride and respect.
"You can't hustle boxing or boxing will hustle you.
"When I was in my 30's, I was considered the 'old guy,' which means for the last 10 years, people have been calling me old.  Maybe now I should be called 'grandpa' [laughs].
"I never would have believed that I would be here.  There are a lot of things I have overcome in my life.  I am not saying that this is easy, but this is nothing compared to what I went through when I was younger.
"I have always been accused of being a 15-round fighter.  I could have fought in any era.  George Foreman said that last week on our teleconference [call with the media].
"I want to remind people that I am the modern day Archie Moore.  He came to Canada in his 40's and beat [Yvon] Durrelle in his own backyard.  I am going to show the fans on Saturday night what déjà vu in the ring looks like in Canada.
"Winning the fight is the most important thing to me.  Without the turkey, you don't get the dressing.  The win is the turkey and the history is the dressing.
"[When asked if he hates Jean Pascal] Hate is a strong word.  I don't like him.  It is good that he hates me.  We fight because we don't like each other.
"The fans are going to be my friends when I mess this kid up and win on Saturday night.
"I am wearing a [Philadelphia] Flyers jersey into the ring on Saturday night, a Bobby Clarke jersey with my name on it.  I am going to be just like him, I might even take out my front teeth.
"I don't think there will be another fighter like me who will fight into their 40's at this level.  Times have changed [in boxing].  You see belts changing hands so quickly.  Fighters don't want to do the things they used to do, the things they had to do to win.  It is hard for fighters to stick around now.  I just don't see this happening again in the near future.
"My opponents keep giving me reasons to stay motivated.  Right now I have a guy saying that I have been cheating and at the end of the day, that is motivation."