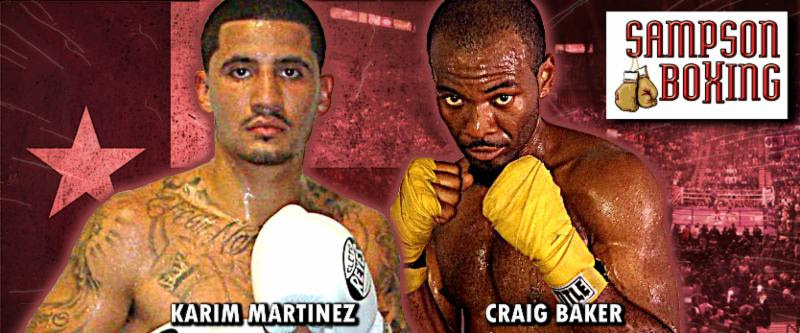 Sampson Lewkowicz of Sampson Boxing proudly announces the signing of 23-year-old junior welterweight Karim "KC" Martinez (15-1, 7 KOs) and 30-year-old light heavyweight Craig "El Gato Negro" Baker (14-0, 10 KOs), both of Houston Texas.
Southpaw Karim Martinez is blessed with natural athletic ability that helped him win the Texas State Golden Gloves Champion in 2008, as well as to become runner up at the National PAL Tournament in 2007. A slick, pure-boxing technician who uses angles and can fight moving forward or back with equal effectiveness, Martinez mixes offense and defense with amazing smoothness and fluidity.
A natural to the sport, Baker entered Lopez Boxing Club in 2005, weighing a whopping 293 lbs and looking to cut weight. Baker lost his amateur debut and then went on to win the Texas State Golden Gloves and the Texas State USA Championships in both 2007 and 2008. Baker was also runner up at the National PAL Tournament in 2007, a quarter finalist in both the National USA Championships Tournament and the National Golden Gloves, which earned him a USA boxing national ranking of #3. As a professional, the undefeated Baker has become a seasoned pressure fighter who wears opponents down intelligently.
"I'm really excited to have signed with Sampson," said Martinez. "In my career, I haven't had much exposure or chance to show everybody what I can do. Now that I have Sampson, I'm really excited and ready to perform to the best of my abilities and see where it takes me in boxing."
"It feels great to be working with Sampson," said Baker. "It's wonderful to have the opportunity to actually be able to be successful. All I needed was a shot. I'm going to make the most of it."
Trainer of both fighters, Juan Lopez of Lopez Boxing in in Bay Town, Texas, says he brought his two star pupils to Sampson based on word of mouth.
"I met Sampson when Chris John fought Rocky Juarez in Houston. I was the one that coordinated the training camp for John. Everything I heard about Sampson from John's people, Craig Christian and Tony Tolj, I liked. Craig gave him the nickname 'The Picasso of Boxing' because he paints the game of boxing, and I always thought to myself that if I ever have a kid good enough to fight at the international level, I would go to him. Well, now I do. I have two. And that's why I took them both to Sampson. Thanks to Sampson for giving us the opportunity. Staying active is very hard here in Texas and he's going to really help us with that."
"Both of these fighters have tremendous potential," said Sampson Lewkowicz. "I have already started work to put them in important fights and show off their talent. I expect both will be established contenders within a very short time. I'm looking forward to working with Juan and Karim and Craig and helping them get the most of their careers."
Martinez will make his Sampson Boxing debut on October 3 in Buenos Aires against Nazareno Ruiz (29-15, 9 KOs) from Argentina. Baker's debut will be announced shortly.