Pacquiao vs. Bradley Analysis – How Timothy Bradley can Score the Upset
Manny Pacquiao is beatable.
Yes, you read that correctly.   What seemed like a Herculean task only a few years ago has suddenly become not only possible but, given the right approach, realistically achievable.  Of course, if you're one of an inexplicably increasing legion of Manny-haters, I'm sure you already knew that.  In fact, Pacquiao is no doubt already entering the June 9 bout with Timothy Bradley with four losses to his name, counting his non-loss loss to Juan Manuel Marquez, right?
Hey, I pick my battles wisely, so I'm not going to fight anybody on that point.  In a clear case where scorecards and eyeballs conflicted, I have to imagine that anyone looking forward to the demise of "Pac Man" gained valuable ammunition to bolster their argument that night.  Yet regardless of your rooting allegiances, I would counter that boxing fans everywhere can at least agree on two things:  1. Pacquiao is still one of the best, if not the pound-for-pound king, in sport today, and, 2.  It will take an opponent's absolute best effort to defeat him.
Enter, Timothy Bradley.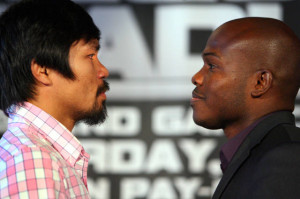 Whether the undefeated Bradley, who has openly admitted that his career trajectory has not been exactly as he had hoped despite the stellar record, is the man to shock the boxing world remains to be seen.  Bradley is a very good fighter who provides some matchup issues that Pacquiao's camp has no doubt already devised a plan for, yet even the best laid plans can fall apart once the bell rings.
Still, if Bradley relies on his training and the strategy developed by his corner, he'll be in much better shape than analysts, and most fans, expect.  Plus, with so much training time remaining, I'm sure we at ProBoxing-fans.com will be hearing from Bradley's camp any day now as to how we feel he should approach the Pacquiao fight.  And, when we field that call from Joel Diaz, here are the five keys to victory we will provide to him, gratis:
1. Listen To The Corner And Stick To The Strategy:  Discipline will be the name of the game for Bradley. Throughout his first 28 professional fights, Bradley has won 17 by decision of some sort.  The implication here being that he can stay focused throughout a long fight and stick to his regimented strategy (in the cases where fights have gone the distance).  He's a smart fighter who will minimize his mistakes and look to keep himself out of bad situations from which escape is not probable.
Still, he has yet to fight anyone remotely close to the skill level of Manny Pacquiao, with all due apologies to the Devon Alexanders and Joel Casamayors of the sport.  The better the fighter, the easier it is to fall into a trap and eat leather.  If Bradley follows his strategy and listens to his corner—taking calculated risks and relying on his skill and training—he could go deep into this fight.
2. Channel Your Inner Marquez: Yes, Bradley has stated in interviews that he has no interest in watching any more film on Manny Pacquiao, primarily because his opponent's every move and predilection is seared into his psyche.  Gamesmanship aside, we'd definitely recommend they take another looksie or two at the Marquez fight.  As great a team as Pacquiao and trainer Freddie Roach make, one has to imagine that they've done the same thing and addressed all of the flaws that were exposed in "Pac Man's" game that night.  Still, it clearly wouldn't hurt for Bradley to go back and see what proved to be most effective against Pacquiao, despite being a much different fighter than Marquez.  Bradley will not, nor should he, change his approach to mirror "Dinamita," but a little TV time couldn't hurt.
3. Attack, attack, attack … : Pacquiao was most vulnerable when Marquez was on the attack which is in no way groundbreaking information since that's pretty much how every fight works.  What was most interesting, and credit Marquez's corner for finally recognizing this in the third fight, was that off-hand combinations worked incredibly well.  Marquez threw two and three punch combinations at Pacquiao, varying between going upstairs and downstairs, sometimes both within the same flurry.  Bradley has quick enough hands to emulate this attack, if Diaz so chooses to take that approach.
4. … and, defend, defend, defend:  It seems ridiculous to even imply that a fighter must do well to defend himself throughout, but a failure to address it would be equally as egregious.  Bradley, similar to Pacquiao, moves forward throughout and can be overly aggressive at times.  Combine that with Pacquiao's explosive lateral movement and lighting quick hands and it will be easy for Bradley to lose track of defense, especially in situations where he's enjoying a prolonged burst of offense.  The key to warding off a Pacquiao attack is to stem the burst before it occurs.  If Bradley can neutralize the cutting jab of "Pac Man," it effectively will throw off the combination long enough to allow him some room to escape.  Where Bradley will win this fight, if possible, is the transition from defense to offense.
5. Take Risks:  Against conventional wisdom you say, to which I respond "Of course!"  Make no mistake regardless of your allegiances: Bradley is very much the underdog.  I don't care how poorly Pacquiao may have looked against Marquez, he's earned the right to be a considerable favorite in this fight.  With that in mind, Bradley will only be successful if he exploits relatively calculated risks throughout the fight.  If he backs Pacquiao up during an exchange, perhaps he throws caution to the wind and looks to put Manny to sleep.  Maybe that proves to be his undoing but, if history is any indicator, Bradley would be wise to not allow the cards decide the fight regardless of how far ahead his corner may feel he is at any point, should that occur.
To quote another underdog, Herb Brooks, "Great moments are born from great opportunities."  If Bradley is fortunate enough to create a great opportunity in this fight, he sure better take the chance to secure his greatest moment.
Comments
comments