Pacquiao vs. Mosley, Bradley vs. Alexander, Top Rank vs. HBO and Much More
News came through in the past week that the Manny Pacquiao vs. Shane Mosley bout on May 7th will be aired not on the typical HBO Pay-Per-View, but instead on Showtime PPV. Thomas Hauser wrote an in-depth, 4,000+ word column examining the move, largely opining that it was a blunder on HBO's part, while essentially allowing Top Rank and Bob Arum a sounding board to air their grievances and support their own cause.
Hauser is one of the most respected boxing journalists in the world. Period. But I have to disagree with him on this. As such, here is my rebuttal to "How HBO Lost Manny Pacquiao," offering an opportunity for boxing fans to further dive into this scenario and really learn what it means for the sport, the players behind the scene and the fans.
The Merits of Pacquiao vs. Mosley
One of the crucial details of Pacquiao vs. Mosley moving to Showtime is that the bout will reportedly receive a great deal of exposure and promotion on CBS, as Showtime is owned by the CBS Corporation. In the meantime, Showtime PPV will air another Top Rank bout, Miguel Cotto vs. Ricardo Mayorga, on March 12th as a sort of trial run for the Pacquiao pay-per-view in May. Additional Top Rank Showtime PPVs will be likely in the future as well, potentially including rematches such as Pacquiao vs. Cotto II, and Cotto vs. Antonio Margarito II.
In theory, boxing receiving network television exposure is a great thing. However, if that exposure will be used to promote a mostly meaningless pay-per-view that fans have to pay fifty bucks for, maybe it's not as great as it's cracked up to be.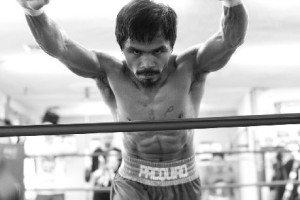 Pacquiao vs. Mosley is no Fight of the Century; or Decade; or Year. It might be the Fight of the Fiscal Quarter, but that's about it. If you're a fan of boxing, and you're not a complete diehard supporter of Manny Pacquiao, then you should actually be unhappy with the Pacquiao vs. Mosley bout.
With that said, Pacquiao has been plying his trade exclusively on HBO, and you'd think that letting the biggest star in the sport essentially walk to your chief rival isn't a very intelligent business strategy. At first glance, it appears a valid point, but it would have more merit if Pacquiao vs. Mosley was an even remotely intriguing, worthwhile or valuable contest. It's not.
The overall tone of Hauser's article is criticism of HBO and its handling of this incident, and the article is filled with a litany of anti-HBO quotes, largely, although not entirely, from Bob Arum, his team, or unnamed sources. His bottom line message is that Showtime pairing up with CBS is nothing short of a visionary move, and the brass at HBO couldn't come up with something remotely as intriguing.
According to Hauser, HBO is dropping the ball by not picking up the tab here, and not doing everything to woo Bob Arum and Top Rank to showcase what is, in all honesty, an inconsequential boxing match. However, HBO's frequent decisions in the past to stand by their expensive "name" fighters, even as they take on mediocre opposition, is criticized as well by Hauser. In pieces such as "HBO and Boxing: At a Crossroads," Hauser laments poor matchups featuring HBO house names, like Chad Dawson and Andre Berto, rather than competitive and entertaining matches that fans are actually craving.
This is the oft-scorned strategy at HBO, signing a select few boxers to multi-fight contracts, ensuring that all of their bouts are exclusively shown on the network. It's something that Hauser and a host of others have cited as one of the major reasons why so many undesirable matches end up getting produced and aired. It's a strategy, though, that they have been weaning themselves off of. Recently, HBO bid farewell to the Klitschko brothers, heavyweight champions Wladimir and Vitali, refusing to be the home for their very costly, and largely unsubstantial, recent conquests.
This, a reversal of strategy, forgoing big names in hopes of finding great fights and perhaps even young stars, should be a good thing for the channel. Taken in the context of this strategic move, and the sentiment that Pacquiao vs. Mosley is a subpar match, shouldn't HBO 's actions be lauded, rather than bashed?
Perhaps, as Hauser theorizes, it was poor management by HBO that precipitated Pacquiao's departure, at least temporarily, to Showtime. Or maybe it wasn't even that. Maybe Top Rank and Bob Arum simply wanted to throw a fit because the Golden Goose finally said no to their demands.
Sour Grapes for Top Rank
Top Rank President Todd DuBoef complains in the piece that HBO "wouldn't even do a 24/7 series" for Pacquiao vs. Joshua Clottey, and that he should have explored other options including potential deals with ESPN, CBS and Showtime for that contest. A 24/7 series for Pacquiao vs. Clottey? Another subpar fight that just happens to include a big star? Isn't that the exact thing we're trying to avoid here to begin with?
Hauser's article lists a string of personal offenses that has Bob Arum and Co. upset. He's upset that members of HBO's team didn't attend his son's funeral. A member of Kelly Pavlik's team, another fighter promoted by Top Rank, is upset that Pavlik didn't receive any well wishes from the network while in rehab for an alcohol problem. Arum is upset that Golden Boy Promotions and manager Al Haymon have more sway with HBO than he does right now. Arum is upset that the network perhaps helped to lead to his split with then meal-ticket, now rival, Floyd Mayweather. He's upset that Sergio Martinez got picked ahead of Cotto for a March date on the network and that he couldn't get dates and opponents for Pavlik and Yuriorkis Gamboa. Arum is upset. I get it, although I don't know why I should care.
While Pacquiao vs. Mosley landing on Showtime, with some CBS exposure mixed in, is being championed as a smart business decision for boxing, for Top Rank and for Manny Pacquiao, and being decried as a massive blunder on the part of HBO, looked at more closely it's nothing but sour grapes on the part of Bob Arum and Top Rank.
Hauser mentions that, "Sources say that Arum's disenchantment with the leadership at HBO Sports also played into the decision-making process." You don't have to connect the dots with anonymous sources to figure it out, Arum explicitly says it. "Ross and Kery brought this on themselves," he says in Hauser's piece, referring to Ross Greenburg and Kery Davis, the movers and shakers for HBO Boxing.  He continues, "If Ross had treated me differently, it would have been very hard for me as a matter of personal loyalty to bring Manny to Showtime." So in reality, while there was certainly some business involved with this decision, Arum feels personally slighted, wants to exact his revenge and craves to reassert his status as top dog. Thanks for clearing that up so precisely, Mr. "Yesterday I was lying, today I'm telling the truth," a quote that Arum notoriously was cited with several years ago.
Hauser says that, "Boxing and HBO have been driving toward a cliff. Bob Arum just got out of the car." I don't think so. This isn't about, "Getting the broadest possible exposure for Pacquiao, Pacquiao-Mosley and boxing." Not at all. Instead, maybe Arum was just a bit too upset that he wasn't the one in the driver's seat as the vehicle crashed and burned.
Perhaps HBO Sports, their boxing budget and their fight programming are being terribly mismanaged. There certainly have been plenty of bad fights, and big wastes of money and airtime on the network in the past few years.
Of course, many of those were presented to us by none other than Top Rank Promotions. Scintillating fights like Kelly Pavlik vs. Gary Lockett and Miguel Cotto vs. Alfonso Gomez come to mind. So is Pacquiao vs. Mosley moving to Showtime about boxing gaining more exposure and having the best fights being made for the fans? No! Absolutely not. Top Rank and Bob Arum are just throwing a tantrum and looking for payback at HBO.
Bradley vs. Alexander and Matches that are Good for Boxing and Fans
While bashing HBO's executives around the block, in similar fashion to how Pacquiao bashed Margarito's face in for 12 rounds this past November in what was sold to the world by Top Rank as an extremely tough 154 lbs title fight (Read: predictable welterweight fight fought for a bogus junior middleweight title against a disgraced, inactive fighter coming off a knockout loss in his last real outing), Hauser also criticizes HBO for spending so heavily on the upcoming Timothy Bradley vs. Devon Alexander bout. Why? Well, I'm not really sure.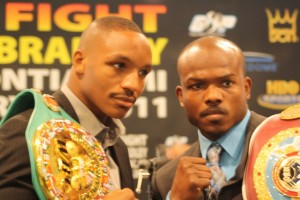 Bradley vs. Alexander is a fight between two young, undefeated Americans, with potential star power, both of whom should have plenty of more intriguing bouts to be made within their talent-rich division. Yet, Hauser says that it could "be a boring styles match-up" and that "only hardcore boxing fans" are interested it.
Hauser laments that "almost 25% of HBO's license fees in 2011" will go towards Bradley vs. Alexander and a second fight guaranteed to each fighter as part of their contract. With Amir Khan and Marcos Maidana as the other standouts at 140 lbs, I would have begged HBO to showcase a round robin of sorts featuring those names as three of perhaps 10 or 12 signature bouts on the network during the calendar year.
I would take any combination of those fighters, for any price, over Pacquiao vs. Mosley, Cotto vs. Mayorga, Cotto vs. Margarito II, or Pacquiao vs. Cotto II. Hell, I would rather read about those junior welterweights fighting than watch these ridiculous PPVs.
I suppose it's better to never showcase the young up-and-comers that we all wish were stars, letting them remain in the shadows permanently, while instead featuring retread fighters, like Shane Mosley, or Ricardo Mayorga, who had their best years a decade ago and are being hand-fed to the cash cows for a big payday. Or maybe it's better to be enjoying a thrilling 4-part documentary series involving the sport's pound for pound star taking on a mediocre contender who would barely be qualified to be his sparring partner, like Joshua Clottey. That's what Top Rank wants, but couldn't get from HBO. I guess that means we really missed out!
If anything, showcasing Bradley-Alexander, two young champions and top 10 pound for pound fighters, while avoiding Pacquiao vs. Mosley, Cotto vs. Mayorga and the rest, is the exact kind of move that boxing fans have been clamoring for.
Just so that we're all on the same page here, Bradley vs. Alexander on HBO is a "bad" thing, but Pacquiao vs. Mosley on PPV, Cotto vs. Mayorga on PPV, Cotto vs. Margarito II, and Pacquiao-Clottey 24/7, are all "good" things. Whoa. It might be time to take a step back and think about this one. Anybody who thinks that the latter options are better for boxing than the former needs to take a deep breath, forget about agendas, and look at those choices once more.
Mayorga hasn't won a meaningful fight in over seven years, a Majority Decision over Vernon Forrest in July of 2003, and is 4-4 in his last eight bouts, with three stoppage losses. Mosley has only one meaningful win in roughly the same period, and that wasn't his last-second stoppage of Mayorga in September of 2008, it was his surprising and resounding TKO of a shell-shocked, ready to be suspended for illegal hand wraps, Antonio Margarito in January of 2009. More recently, he lost 11 of 12 rounds to Floyd Mayweather and participated in a near unwatchable draw against the wholly intolerable Sergio Mora in September of 2010.
If fights like Pacquiao vs. Mosley and Cotto vs. Mayorga were being showcased on HBO, let alone HBO PPV, I would expect many individuals, Thomas Hauser included, to be up in arms about the peculiar move to feature such shopworn fighters and undesirable matches.
The Bottom Line
It's time to be blunt. Anybody, who thinks that the aforementioned pay-per-view contests are good for the sport of boxing, seem like meaningful, entertaining contests, or are in any way better than a fight such as Bradley vs. Alexander, is, at best, misguided on the subject of what boxing fans want, and what the sport of boxing needs.
I'd be happy to talk about all of this more, as soon as I have the chance, perhaps right when I'm done watching the Bradley vs. Alexander fight. Now that should be a good time, taking in two of the sport's best, in a truly meaningful match, on a free card. Not only that, but I'll have about $150 to spend on food and drink for fight night, rather than putting that cash towards the three bogus PPVs that Top Rank wants me to buy in the next six months. You know, the ones which HBO supposedly screwed the pooch over by not offering the world to Top Rank for the privilege of showcasing.