After his August 2010 loss to Jean Pascal for the WBC, IBO and Ring Magazine Light Heavyweight titles, Chad Dawson knew he needed to make a change if he wanted to be the dominating force of the light heavyweight division. With this in mind, Dawson hired the legendary Emmanuel Steward as his new trainer. According to ProBoxing-Fans.com, Dawson is currently the number 4 light heavyweight boxer in the world, and with the help of Steward, he hopes to reach the top spot once again.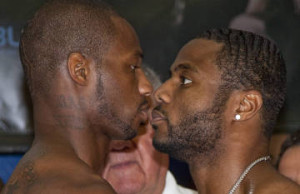 Emmanuel Steward, who has trained 41 world champion fighters including Oscar De La Hoya, Tommy Hearns, and Miguel Cotto, is at a point in his legendary career where he will only work with fighters who he sees enormous amounts of potential and greatness in, and he believes that Chad Dawson is that talented. Steward seems to have big, yet achievable goals for Dawson. He believes that if he teams up with Chad, he can turn him into a fighter who limits his decision victories, wins by knockout, and thus, preserves his career while reaching the top in a very explosive and exciting way.
Dawson is looking to make 2011 his best year yet, regaining his light heavyweight belt from Pascal and meeting the other top dogs in the division as well. I believe that Steward is a good choice for Dawson, not only because he knows how to train great fighters and enables them to reach their full potential, but also because with his offensive-minded style and knowledge, he can get Dawson back to scoring KOs, which he hasn't done in three years.
Although the rematch against Pascal is not guaranteed, Steward sees the talent in Dawson and believes that Chad "fought the wrong type of fight" against Pascal. Steward was correct in his assertion that Dawson didn't utilize all his opportunities to attack and hung back a little too much. Steward thought that he should have taken advantage of more opportunities and knocked Pascal out. Hopefully in his future fights, he will take advantage of the knockout power that both Steward and Chad himself know that he possesses.
Since Dawson didn't take an interim bout before his potential rematch with Pascal, he will come into his next fight (which may or may not be a rematch against Pascal) feeling fresh and with a new, legendary trainer in his corner who is determined to change Dawson into the best in the division and a fighter who will bring excitement into boxing again. Whether his next opponent is Jean Pascal or someone else, they better be prepared for a new, more explosive Chad Dawson.  Look for Chad to have a big 2011 under the "stewardship" of Emmanuel Steward.