A decision has been made: WBO Cruiserweight World Champion Marco Huck (36-2-1, 25 KOs) will rematch Firat Arslan (33-6-2, 21 KOs) on January 25 in Stuttgart, Germany.
The second encounter between Huck and Arslan was scheduled to have gone forward on September 14. However, the defending champion suffered a hairline fracture to his left elbow in his final sparring session and was not capable to fight this weekend.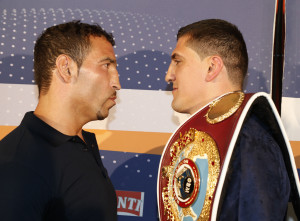 "I promise that I will give it my all in preparation of the new fight date and to be in top shape by early next year," said Arslan, who turns 43 on September 28.
"This will be the hardest fight of Marco Huck's career to date!"
The WBO titlist is also happy that the fight will happen in January 2014.
"First of all it was important to me that the doctors are optimistic about the healing process. I need to be at a 100 percent," confirmed Huck. "I will train the same way as I did for September 14. Come January 25, I will be in the best shape of my life."
The Huck vs. Arslan II is the first big fight officially on the docket for 2014 thus far.