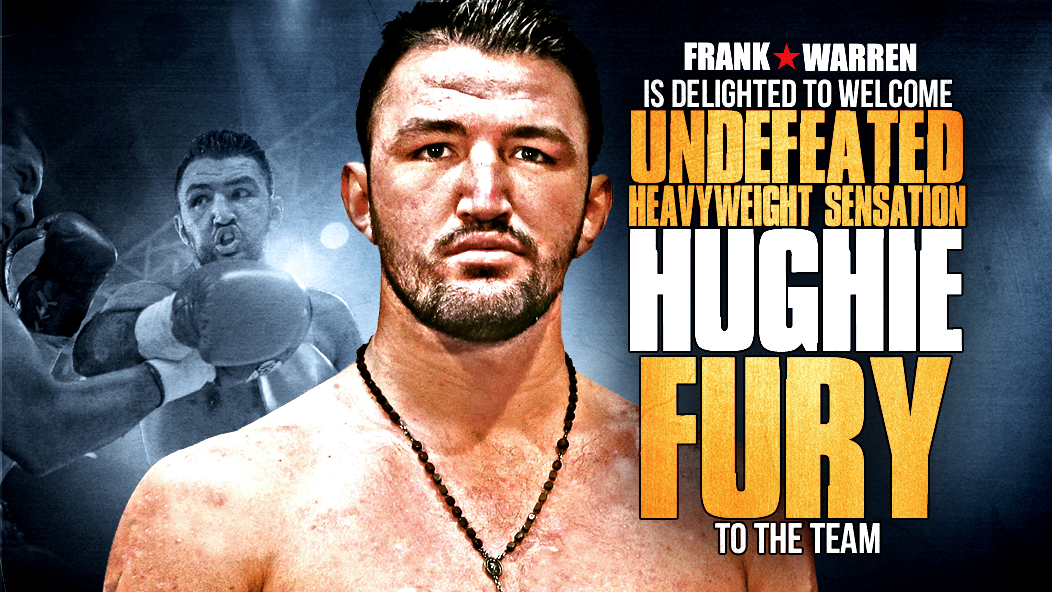 Heavyweight Hughie Fury says there's nobody that can stop him on his rise to the very of the glamour division. Hughie, the younger cousin of World Heavyweight Champion Tyson, joint headlines a card at the Copper Box Arena on April 30th where he takes on Fred Kassi.
The undefeated Manchester fighter has ripped his early opposition, stopping ten out of nineteen opponents early with eight coming inside three rounds. The 21-year-old is looking to bag his first title against the big-hitting Kassi before joining cousin Tyson as a world champion.
"I don't see many people out there in the heavyweight division that are capable of stopping me; it's wide open. I'm going to get the right fights under my belt and make my mark on the division. The aim is to follow in the footsteps of Tyson and become a world champion," said Fury.
He added: "It's going to be a massive year for me. Now I've teamed up with Frank I'm going to be fighting more regularly against strong opponents; I've got some good nights ahead of me."
Hard-hitting 'Big Freddy' has a fearsome reputation with ten knockout wins in 19 career victories; nine of them coming inside two rounds. Fury knows he'll have his work cut out if he is to bag himself a first professional title.
He said: "He's another level up from my previous opponents. He's a very awkward fighter; not many people fancy facing him. He can mix it up a bit by switching between southpaw and orthodox so it should be a tricky fight.
"I'm fighting people that nobody else wants to fight. These guys are capable of making you look bad. Unlike some people I'm willing to do things the hard way. Peter picks my fights so I can learn and improve properly; I need to be able to deal with different styles."
With the heavyweight division in a new era after the Klitschko brother's long dominance, Fury is in a perfect position to capitalise. Hall of Fame promoter Frank Warren is confident his new Heavyweight prodigy has what it takes to make it to the very top of the division.
He said: "Hughie is a fighting man; he's done things the hard way. 19 fights in three years is a phenomenal record for a heavyweight fighter. We know he's got gas and can get through ten rounds with no problems. Within the next 12 months I wouldn't be surprised if Hughie was fighting for a version of the world title."