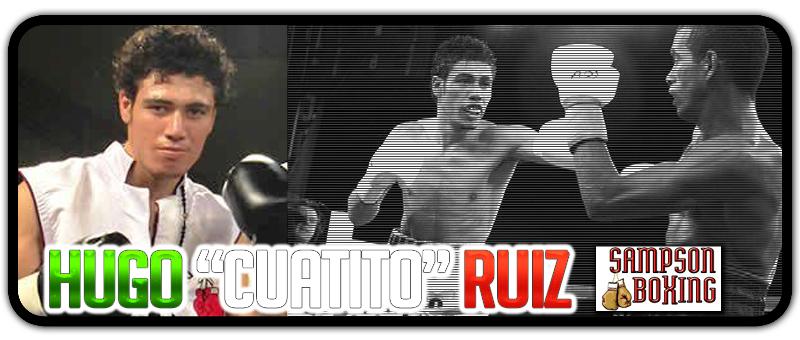 Mexican power-punchers Hugo Ruiz (35-2, 30 KOs) and Julio Cesar Ceja (28-1, 26 KOs) square off in a super bantamweight world title match as the televised opener for Premier Boxing Champions on ESPN on Saturday, August 29 from STAPLES Center in Los Angeles beginning at 10 p.m. ET.
The evening's main event features the highly anticipated featherweight showdown between undefeated two-division world champion Leo "El Terremoto" Santa Cruz (30-0-1, 17 KOs) and former three-division world champion Abner Mares (29-1-1, 15 KOs).
Also featured as part of this great night of boxing will be popular Mexican star Alfredo "El Perro" Angulo (23-5, 19 KOs), who will compete in a middleweight bout against Hector Munoz (23-15-1, 14 KOs).
Additionally, a slew of top prospects will be featured including local favorites Alejandro Luna (18-0, 13 KOs) who battles Yakubu Amidu (19-7-2, 17 KOs) in a 10-round lightweight attraction, Jessie Roman (19-2, 9 KOs) who takes on Hector Serrano (17-4, 5 KOs) in an eight-round welterweight battle and Paul Mendez (19-2-2, 9 KOs) who squares off against Andrik Saralegui (19-2, 15 KOs) in 10-rounds of super middleweight action.
Further action will see 25-year-old Argentine Brian Castano (12-0, 9 KOs) in middleweight action against the Domincan Republic's Jonathan Batista (14-6, 7 KOs), plus his brother, 22-year-old Alan Castano (8-0, 5 KOs) taking on 23-year-old Michigan native Thomas Howard (8-4, 4 KOs) in a six-round middleweight bout. Rounding out the action will be fights featuring 25-year-old Anthony Flores (8-0, 5 KOs) out of Los Angeles taking on 32-year-old New Yorker Curtis Morton (3-4-3) in a welterweight battle, and the pro debut of Leo Santa Cruz's cousin Antonio Santa Cruz who takes on Isaiah Najera (0-1)in a four round bantamweight bout.
A 28-year-old fighting out of Sinaloa Mexico, Ruiz enters this fight on a four-fight win streak and as winner of 26 of his last 27 fights. He owns victories over the likes of Jean Sampson, Yonfrez Parejo and Francisco Arce throughout a pro career that began in 2006. He most recently knocked out Carlos Medellin in November 2014 and will be making his U.S. debut on August 29.
The 22-year-old Ceja has won five-fights in a row and is looking to make the most of this world title opportunity. The fighter out of Atizapan de Zaragoza, Mexico will make his U.S. debut August 29 and is coming off of a victory over Oscar Blanquet in March of this year. He has taken down Jesus Acosta, Juan Jose Montes and Henry Maldonado as a pro.
A hard fighting Mexican warrior born in Mexicali, Baja California, Mexico but fighting out of Coachella, Calif., Angulois looking for another big victory in front of his Southern Californian fans. Always ready to challenge the best in the sport, the 33-year-old has gone toe-to-toe with some of the best fighters in the world and holds knockout victories over Gabriel Rosado, Joachim Alcine and Joel Julio while most recently earning a knockout victory over Delray Raines in June. He takes on the brawler Munoz out of Albuquerque, New Mexico.
At just 23-years old, Lunahas already put together an impressive 18 professional wins since turning pro in 2010. Fighting out of Bellflower, California, he most recently defeated former world champion Cristobal Cruz over eight rounds in June. Before that he had put together victories over experienced fighters Daniel Attah and Sergio Rivera while knocking out six of his last nine opponents. He takes on the experienced 30-year-old Amidu who fights out of Los Angeles by way of his native Ghana.
A tall lightweight at 5″10″, the 24-year-old Roman looks for his third straight victory on August 29. Fighting out of nearby Santa Ana, California, Roman has already won twice in Southern California this year, earning a pair of eight-round decisions over Donald Ward and Evincii Dixon. He takes on the 30-year-old Serrano out of Huntingon Beach, California who enters this fight on a five-fight win streak.
Another local prospect, fighting out of Delano, California, the 26-year-old Mendez looks for his sixth straight victory when he gets in the ring on August 29. He comes into this fight off of victories over David Alonso Lopez, Santiago Perez, Raul Casarez and Ernesto Berrospe twice. He will take on Saralegui out of Los Mochis, Mexico.