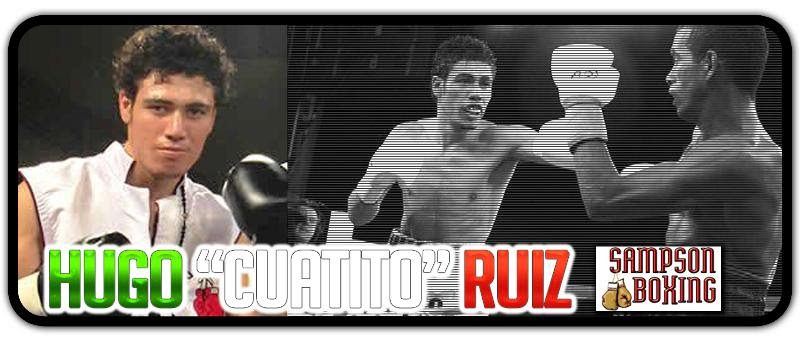 Promoter Sampson Lewkowicz of Sampson Boxing wishes to congratulate the fighter he co-promotes (along with Oswaldo Kuchle of Promociones Del Pueblo), Hugo "Cuatito" Ruiz, for his title winning victory on Saturday night.
Fighting on the Showtime-televised co-main event last Saturday (February 27) at the Honda Center in Anaheim, California, Ruiz (36-3, 32 KOs) gained revenge against Julio Cesar Ceja and took back his WBC World Super Bantamweight Championship via TKO 1 (:51 seconds).
"Hugo was the fighter I knew he was tonight," said a happy Lewkowicz. "In the first fight, he gave this guy too much respect. This time he came out looking to destroy him and he did."
Ruiz and Ceja met for the first time last August. A big left hook in the third round had Ceja nearly out, but Ceja landed his own hook in the fifth and ended up with a TKO victory, seconds later.
In the rematch on Saturday, Ruiz dropped Ceja with one of his first few punches, sending him down hard and injuring his ankle. Ceja rose but the follow-up barrage ended matters for good.
Lewkowicz says the future is now bright for his 29-year-old fighter from Los Mochis, Mexico.
"Ceja is crying for a third fight, but we are not looking at that," said Lewkowicz. "Except for one lucky punch in the first fight, Hugo has dominated him every round. We are more interested in one of the other super bantamweight champions in this exciting division."
Lewkowicz says there's a unification fight he wants above all the rest for Ruiz. "I enjoy a good working relationship with the team behind now-unified champion Carl Frampton. We would be willing to travel to Europe to make that sensational fight happen."