Following three months in America, training with Hall of Fame coach Freddie Roach at his World famous Wild Card Gym in Los Angeles, former Team GB star Iain 'The Blessed One' Weaver returns to the York Hall in Bethnal Green, London on Friday, October 4th on the Dave Murphy Acourtier Events promoted 'NIGHT OF CHAMPIONS' mega event.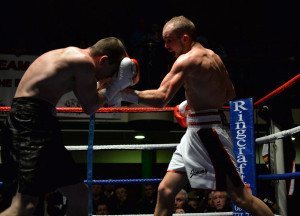 While Stateside young Iain also managed to fit in a little competitive action, in front of some his highly acclaimed gym mates, such as Brandon Rios, Victor Ortiz, Mikey Garcia etc. and claimed a sensational first round knockout over French Polynesian prospect Karihi Tehei (3(KO2)- 1) at the County Fairgrounds in Ventura, California on the 12th July.
Now back home in dear old Blighty, Iain is clearly relishing returning to the York Hall in London, the scene of his professional debut, as well as maiden pro victory with a shutout 40-36 points victory over Damian Lawniczak back in April, as he made clear when he spoke earlier.
"It's great to be back out and fighting in England again and have the opportunity to fight in front of my fans.
Fighting at York Hall again is great and I'll have a lot of support.
I can't say just how happy I am just to be able to fight in England again and I can't wait to get back to London on October 4th.
After my fight in April I went of to Los Angeles to spend three months training and sparring at the Wild Card Gym.
I also had a fight out there against a good kid, he wasn't unbeaten, but had had a decent three one record. Two of the wins were by knockout.
He had Jesse Reid in his corner and I won with a first round knockout, which was really good.
It was a great experience to be fighting in front of Brandon Rios, Victor Ortiz, Mikey Garcia, who were all there, so it was a good night.
So here I am now back to the famous York Hall and really looking forward to it. Last time I only had a few weeks notice to sell the tickets, but this time I've got a good few weeks so hopefully will do even better and sell quite a few tickets.
It'll be another great night no doubt and I'm looking forward to putting on a great show for the fans."
Iain Weaver, against a yet to be named opponent, will feature on the Dave Murphy Acourtier Events promoted 'NIGHT OF CHAMPIONS' event, headlined by Michel Trabant vs TBA and Jennifer Retzke versus Angel McKenzie World title clashes, at York Hall in Bethnal Green, London on Friday, 4th October 2013
Comments
comments