Would Klitschko Have Beaten Ibeabuchi?
Ike "The President" Ibeabuchi remains an enigma, the great "what if" of the post-Lewis era of the heavyweight division. He was a brilliantly talented fighter who broke out big on HBO in the late 1990s, winning two high profile fights against David Tua and Chris Byrd. The bout with Tua remains one of the most action-packed bouts in history, holding the record for most punches thrown in a heavyweight contest. Imagine a man as powerful and as durable as Sam Peter, but fast and endowed with ring smarts and you get the idea.
Sadly, Ibeabuchi was plagued by mental illness, which led him to brutalize a sparring partner and his trainer after a training session, and finally to violently molest a stripper in his hotel room. The Nigerian has been imprisoned for more than a decade, and his fate is emblematic of a generation of heavyweights plagued by misfits and underachievers. Yet because his fall had more concrete causes than mere laziness or stupidity, and because his promise was so bright, one has to wonder what would have happened if Ibeabuchi had not become so unstable and landed in jail.
Backstory
Ibeabuchi's boxing career ended after he knocked out the much-ducked, undefeated Chris Byrd in 1999. Foreshadowing his future, he turned down lucrative HBO fights with Jeremy Williams and Michael Grant. In this counter-factual story, Ibeabuchi takes the $1 million offer to meet Michael Grant, who was then regarded as the next big thing. Grant and Ibeabuchi fight in November 1999 (in real life, Grant fought Andrew Golota), and Ibeabuchi exposes Grant's limitations instead of Lennox Lewis, stopping the lumbering giant in five rounds.
That bout leads Ibeabuchi into a showdown with heavyweight king Lennox Lewis in April 2000. The most exciting heavyweight championship bout since Bowe vs. Holyfield I sees Ibeabuchi constantly shift tactics in an effort to overcome Lewis. He starts out trying to out-jab the jabber, then shifts to stalking and punching, and finally turns to swarming. Switching to stalking and then to brawling gives Ibeabuchi the momentum for a couple of rounds, but ultimately Lewis wins back control of the fight. The battle's third act see four solid rounds of furious exchanges, with Ibeabuchi finally succumbing and falling in a TKO10.
While Ibeabuchi's stock remained solid in the wake of the loss to Lewis, it did put him in limbo for a time. Lewis moved on to other things, no rising heavyweight wanted to tangle with Ibeabuchi (including the new WBO champion Wladimir Klitschko), and the Nigerian was locked out of the Don King-controlled WBA and IBF title pictures. However, HBO takes care of their star, and stages a clash with Hasim Rahman over the vacant WBC title in 2004, a fight Ibeabuchi wins handily.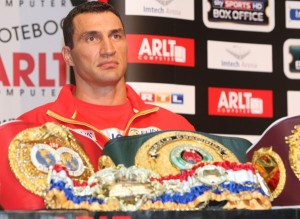 Meanwhile, Wladimir Klitschko has lost his WBO title by knockout to Corrie Sanders, and then suffered a second humiliating knockout loss to Monte Barret in 2004. Dr. Steelhammer gets his career back on track by eking out a win over Sam Peter and then routing Byrd for the IBF title. Over the next few years, Ibeabuchi and Klitschko systematically clean out the heavyweight division of everyone who isn't in the WBA's Ruiz-Vaulev orbit.
Ibeabuchi began seeking a unification fight as early as 2006, but Klitscho trainer Emmanuel Steward chose instead to wait, perfect his protege and build up his confidence. By 2009, Steward decided his charge was ready, setting the stage for a unification fight between the WBC champ (Ibeabuchi) and the IBF-WBO champ (Klitschko).
The Fight: Klitschko vs. Ibeabuchi

Facing another Emmanuel Steward-trained giant, Ibeabuchi comes out just as he did against Lennox Lewis: matching jabs by trying to use footwork and hand speed to make up for height and reach. Just like with Lewis, it doesn't work. Wladimir Klitschko has perfected a safety-first style combining good movement, lance-like jabs mixed with the odd hard right straight down the pike, and a high guard to protect his suspect chin and control the pace of the fight. Ibeabuchi abandons the idea of boxing the boxer after the 2nd Round.
Ibeabuchi switches to stalking and punching, and gets better traction for it. What most people remember from this stage of the fight is Ibeabuchi eating a jab or two to get in and firing off a sharp two or three punch combo on the inside. Klitschko's guard catches the head shots, but Ibeabuchi consistently lands a hard body shot. When Klitschko fires a straight right, the Nigerian usually slips it and lands a hard left hook to the body, getting clean away afterward. That cuts down on the Klitschko rights considerably, which forces Klitschko to stick and move at a more demanding pace.
By the 6th Round, Ibeabuchi has blood trickling from his nose and a fresh cut over his left eyebrow, while Klitschko is showing signs of tiring. The drama rises as everyone wonders what will happen first: Ibeabuchi's cut busting open or Klitschko running out of steam?
Klitschko opens the 7th by upping the ante and going after that cut. He emerges from his defensive shell and launches a long-range assault on Ibeabuchi, coming in behind the 1-2 and following up with a clubbing overhand right, all the while keeping his guard tight. The artillery sends Ibeabuchi reeling, covered up and against the ropes, but by retreating Ibeabuchi also protects his cut. When Klitschko slows down at the end of the 7th, the President comes back with flurries. Klitschko wins the 7th, but he also shows he can't fight every minute of every round as a sustained offensive.
Klitschko starts attacking in spurts, but when he reverts back to stick and move, he can't keep Ibeabuchi back. At the end of the 8th, Klitschko absorbs a double left hook to the body that cuts him in half and leaves him to stagger back to his stool. Yet Ibeabuchi is in trouble as well. With his guard more open, Ibeabuchi takes more telephone-pole jabs and this cut starts flowing freely. The ring doctor is summoned between the rounds, and it looks like the fight could be stopped in the next round.
Ibeabuchi rises from his stool, crosses the ring, takes two jabs without the slightest concern for his cut, and throws everything but the stool at Wladimir Klitschko. He sets up the same whirlwind pace that led him to throw 975 punches in 10 rounds against Tua. Klitschko is just too big and too tired to get away, finds himself pushed up against the ropes and then practically beaten down to the canvas. Rising to his feet at the 8-count, it looks like Klitschko is doomed, but the big Ukrainian lands a straight right squarely on Ibeabuchi's button as the Nigerian comes in. Ibeabuchi falls, and gets back up by 8 as well. Both men eye each other warily for almost a minute, and then Ibeabuchi renews the assault. Klitschko falls a second time, the bell rings, and Klitschko rises at the 9-count to return to his corner on wobbly legs.
Yet at this point, Ibeabuchi's cut is a swollen, grotesque mess. The doctor takes one look at it and stops the fight, handing Klitschko the unified title by TKO9. With a real test and a dramatic fight under his belt, Dr. Steelhammer's reputation soars, the heavyweight division is revitalized, and talk of Klitschko vs. Ibeabuchi II is on everyone's lips. But that is another story…