Press Release: Kingsley Ikeke, NABA Super Middleweight Champion, Looking for Another Big Fight
Kingsley Ikeke is the current NABA Champion and will be ranked #10 by the WBA this month. It seems nobody will fight the Nigerian Super Middleweight, who trains with Eric Brown at the world renowned Wildcard Boxing Gym. "We tried to get Ikeke into the Super 6 when we heard that Jermaine Taylor was out," said Ikeke's promoter, Brian Halquist. "They understandably chose Allen. It seems that Kingsley is in no man's land right now. I have received phone calls to see if King is interested in a fight and when we say yes, people come back with, we found another opponent. Not many people will fight Ikeke," continues Halquist.
Ikeke's three losses have been to current WBC title holder Jean Pascal in 2007, former IBF middleweight champ and current favorite to win the Super Six World Boxing Classic, Arthur Abraham in 2005 and Anthony Hanshaw back in 2001; in what was Ikeke's first attempt to fight at super middleweight.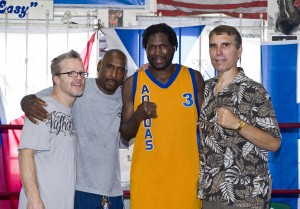 Ikeke (26-3, 14 KO's) fought Emmett Linton (33-6-2, 15 KO's) in June 2009. After the fight Halquist signed him. "Ikeke had already beat Kenny Ellis in Tacoma in 2002. Kenny was our fighter. He was ranked 3rd in the world by the WBO. We had three titles on the line, the NABO, NABA and NABF. When he came into town and beat Emmett, I had seen enough. We signed him immediately," stated Halquist.
In August 2009, Ikeke returned to Tacoma to fight Mark Woolnough (19-6-1, 6 KO's) for the NABA Super Middleweight title. Ikeke came up with the win and a world ranking. "I thought, OK we are right where we need to be. Ranked, have a regional belt, and ready to fight," Halquist said.  But the phone isn't ringing. "I've got calls for Roger Cantrell (15-1, 8 KO's) who's only loss was to Super 6 fighter and current WBA World champion Andre Ward. When I say that Cantrell has moved to light heavyweight but that I have Ikeke and he'll fight the answer is we'll pass," concluded Halquist.
"Ikeke is always in the gym and within 4-5 pounds of weight. Maybe that's the only way we are going to get a shot." said manager Steve Feder.
"We just keep working on the fundamentals and staying sharp in case we get a call," stated trainer Eric Brown. "The way it looks, no one wants to fight us and set up something four to six weeks out. So we are doing what we have to do and not letting him regress and not letting him over-train either. I think he matches up well with just about anybody out there. The biggest reason they don't want to fight him is that they are worried about getting upset. Kingsley is a dangerous fighter for any of the super middleweights out there," concluded Brown.
"I've been fighting for a long time. I just love to fight; to be a fighter," said Ikeke. "I don't run from anybody. I will fight anybody. Let the people come to the fight and judge if I am the opponent.
So the question must be asked, will anyone fight Ikeke?
Ikeke and his team are trying to make fights. They are also waiting for the phone to ring.