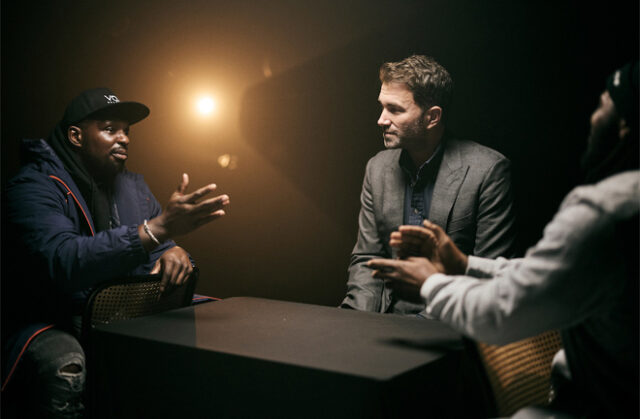 Dillian Whyte and Jermaine Franklin were involved in several, heated verbal exchanges during a face off ahead of their showdown on Saturday.
Whyte and Franklin meet at the OVO Arena in Wembley, live on DAZN with promoter Eddie Hearn insisting the winner is on course to fight Anthony Joshua next.
The pair came face-to-face for the first time in a gloves are off style roundtable posted on Matchroom Boxing's YouTube channel with Hearn posing as arbitrator between the two feuding heavyweights.
Whyte, returning after a sixth round stoppage loss to WBC heavyweight champion, Tyson Fury in April began with some respectful sentiments to the unbeaten American, but insisted he is coming for the knockout.
"He's a good fighter," the 35-year-old said.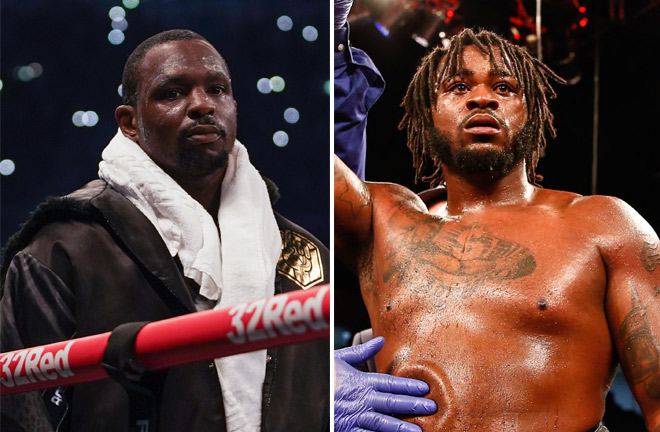 "21 guys tried to beat him, he's beaten them all, but there's levels to this and he'll understand.
"You know me, I find a way to win, whichever way I gotta get it, but I'm looking to knock him out. I'm definitely looking to knock him out.
"I ain't brought a lot of rage to the ring in a long time. I think it's time to bring some rage back to the ring."
The pair then went at each other after Franklin claimed that he'd been chasing a showdown with 'The Body Snatcher' for a while.
"You ain't been pushing for no fight," Whyte told his rival.
"I've never been hard to find.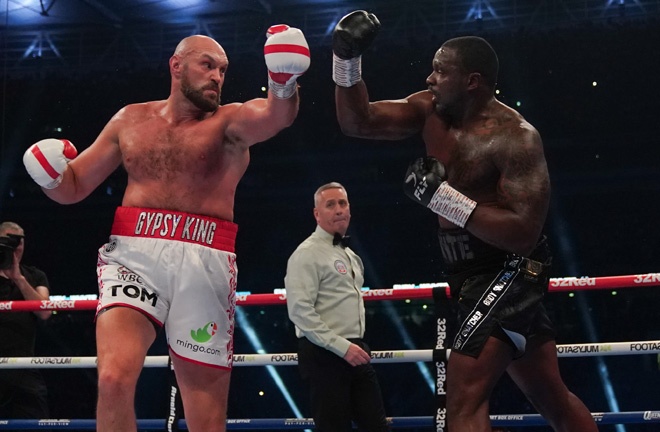 "I don't know what you've been pushing, but it's not my direction, bro."
Franklin replied: "About last year, two years ago for a shot then."
The Londoner hit back: "Last year you weren't relevant."
"Why am I going to fight [you] when I'm fighting Fury?
"Even an idiot can understand that bro, you're not that stupid."
Franklin responded: "This is way before the Fury fight, you didn't even have the Fury fight."
Whyte then interrupted: "Bro, I was fighting top guys. I've been fighting guys that are ranked in the top 10 for years brother, you're just talking rubbish."
The visitor has fought once in almost three years stopping Rodney Moore in five rounds in his last outing in May.
View this post on Instagram
The Michigan man was challenged again by the Brit who accused him of backtracking on his statements.
"It's boxing. This is what we do, we fight," the 29-year-old said.
"I don't think nobody is making a mistake."
Whyte then fired back: "You were saying I was making a mistake a few weeks ago.
"A few weeks ago you said I've made a big mistake and you'll knock me out.
"Now I'm in front of you, you're saying some other b******* now."
Franklin then laid out his intentions in the fight: "I'm coming to put you on your a**.
To which the Brixton man replied: "I'm about to punch those dreadlocks off your head, man."
🗣️ "Don't talk sh*t" – @DillianWhyte

ICYMI: The #WhyteFranklin Face Off: https://t.co/gXymp8kpev pic.twitter.com/8MfrBcr5QS

— Matchroom Boxing (@MatchroomBoxing) November 22, 2022
The pair resumed their fiery debate after Hearn teased to Franklin that he would receive a shot at Anthony Joshua should he defeat Whyte.
Whyte is also on course for a rematch with Joshua should he overcome the '989 Assassin' on Saturday, seven years after their first meeting which 'AJ' won by stoppage.
"He's thinks I'm intimidated," Franklin said after Whyte accused him of being nervous.
Whyte fired back: "If I wanted to intimidate you, I'll wait for you outside and show you what intimidation is brother.
"I'll do work to you outside. Don't talk s*** bro."
Franklin then responded during a fiery exchange: "We do the same s*** over here, I'm not worried about none of that s***."