What if Vitali and Wladimir Weren't Around?
For the past decade , the brothers Klitschko have dominated the heavyweight division with consummate ease. Challengers have tried and failed to grab victory and hear that all elusive catchphrase, "and the new", as the Ukrainian behemoths continuously re-assert their authority over boxing's most iconic weight division.
Contenders are slowly dropping with David Price, Malik Scott and Seth Mitchell all falling by the wayside this year before they even made it to a title shot, while others such as Deontay Wilder and Tyson Fury have yet to make substantial progress. The issue of who succeeds the Klitchkos is beginning to resonate more as a question of who will contest the titles once they retire and vacate them, rather than who will directly dethrone them.
For the sake of fantasy, it is far more interesting to speculate as to what the heavyweight division would look like right now were it not for the presence of Wladimir and Vitali. As such, here is my hypothetical current state of the heavyweight division, without the Klitschko brothers.
The Champions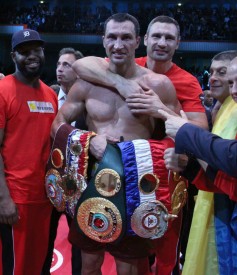 With the Klitschko stranglehold on the world titles dissolved, who would clasp their hands on the belts? David Haye's combination of speed and power would be enough to ward off many of his more similar-sized counterparts, although he may have retired into the sunset by now with his heavyweight ambitions fully satiated.
Alexander Povetkin's talents would not have been wasted for the past few years simply waiting for the right time to face a Klitschko, instead he would have been contesting world titles on a more frequent basis, and probably with greater success, too. Tomasz Adamek and Kubrat Pulev's relatively smaller stature would be less of an issue, while youngsters such as Fury and Wilder would unlikely be held back so much with a more open division in front of them.
The chances of an undisputed champion emerging from this crop is unlikely, as none obviously out-shine the others, though Haye and Povetkin would likely be seen as the more experienced statesmen of the group with a title or three between them. Perhaps an Adamek or a Tony Thompson would have been able to snag the remaining title, though their grip could well be loosening by this point with the aforementioned hungry young guns breathing down their neck.
The Fights
Had David Haye continued to fight on as he has done, fights with the current crop of fellow Brits such as Fury, Dereck Chisora and David Price, would have generated great interest on British shores, and would likely have added kindly to his bank balance in the process.
Stateside, Tomasz Adamek's loyal crowd of partisan followers would have wielded some raucous world title fight nights in New Jersey. Match-ups with Chris Arreola, Eddie Chambers and Steve Cunningham would have had added significance, while other American contenders such as Thompson, Wilder, Mitchell and Bryant Jennings would have provided stern competition.
The likelihood is, without the Klitschko's supremacy, the aforementioned fighters and their respective promoters would be less worried about maintaining a pretty-looking unbeaten record and more focused toward quality, even match-ups that would attract the fans. Contenders would be more open to fighting each other with more on the line and without the risk of losing that precious unbeaten record to take almost sacrificially into a Klitschko challenge.
The Public Perception
"Moribund" is an oft-used word to describe the current state of the heavyweight division in comparison with other eras. Titles do not change hands and exciting world title fights are few and far between. Furthermore, while the Klitschko's dominate, they fail to catch the attention of the boxing historians, who I tend to believe do not class them in the same category as the likes of Joe Louis, Muhammad Ali and Larry Holmes, to name a few.
Although the likes of Haye, Povetkin and Co. would not be rated in such a category either, I feel the perception of the heavyweight division would be far more positive with competitive fights and a flow of world titles. The standard would be no better, but the entertainment would be on another level. Imagine the fireworks if Haye met Arreola? Consider a world title unification trilogy between Povetkin and Adamek spanning Europe and America? Think of the vested interest the fans would have watching up and comers like Fury, Price, Wilder and Jennings duke it out?
The Winners
Of course, all of the above resides in the unreal, but it would be far more plausible without the Klitschko brothers. The bottom line is that boxing fans primarily seek entertainment, and in these hypothetical circumstances there is far more of that on offer. Without the authoritarian rule of Wladimir and Vitali, the four major world titles would be openly contested between more evenly-matched foes. This would not only create more fan-friendly fights, but also more opportunity for the contenders.
Wladimir and Vitali Klitschko are clearly the best heavyweights in the world, and they have been for some time. For that they command respect and admiration worldwide. A heavyweight era without them may lack a recognizable undisputed champion, but it would be remembered for its competitiveness and excitement, and which boxing fan doesn't want that?