The Matchmaker Behind the Scenes of Hatton Promotions Talks Matthew Hatton, Scott Quigg, Martin Murray & More:
Ricky Hatton's achievements in the ring, and popularity out of it, ensured his promotional career hit the ground running, but still, there was no time to rest on his laurels. Boxing fans can be fickle and had the quality of his shows not lived up to expectations, the goodwill towards him would have counted for nothing. Hatton needed to surround himself with the right people, and although he has so far secured the signatures of some talented fighters, his best signing could yet prove to be Director of Boxing for the company Richard Poxon.
A respected figure, Poxon has enjoyed previous success at the highest level having trained Sheffield based Clinton Woods to the world light heavyweight title. Since joining Hatton Promotions primarily as a matchmaker in June 2009, the Yorkshireman has secured a number of title fights for the new organization's fighters and his success was rewarded with promotion to his present role last October. Now working closely alongside Hatton and company C.E.O Gareth Williams, Poxon combines his matchmaking duties with contract negotiations and searching out new talent.
While there have been a number of tabloid revelations regarding Hatton's private life, his promotional company has been going from strength to strength and as we start a new year it seemed a good time to  return to matters inside the ring and get Poxon's reflections on their achievements so far and hopes for 2011.
"We've got to be more than happy. To go from a standing start with nobody signed up to being where we are now is great" says Poxon. "Myself and Ricky are very happy with the stable and now we just need the kids to push on and we'll get to where we want to be."
Hatton Promotions seem to be going about things the right way. The shows have been sensibly sized and have grown from leisure centers to mid size arenas. Basing themselves predominantly in Hatton's North West of England homeland and concentrating on building up solid followings behind local fighters has proved a successful strategy so far.  "You can book as big an arena as you like but the problem comes in filling it. We started off in the middle really. As well as young lads just starting out we also signed fighters like Scott Quigg who already had a good following and now we're trying to do something similar with Adam Etches."
There can be no doubts about the quality of some of the title fights the company has so far put together,  but some fans have voiced opinions that Hatton Promotions prospects have been matched softly to bolster their records. Poxon is quick to deal with the accusations. "I know you shouldn't take notice of it really but I had to laugh at some criticism on the internet recently that some of our fighters have been weakly matched. Those people mustn't have ever been to one of our shows. We've had some fantastic undercards. Obviously any promoter lives and dies by the quality of the television dates they can put on and while we're lucky to have the support of a good television deal with Sky, if they aren't happy with the quality of the shows and don't screen them then there is nowhere for the promoter to go".
With a roster that includes high profile fighters like Matthew Hatton, and a number of European and Commonwealth belt holders, Poxon feels Hatton Promotion fighters are on the verge of breaking onto the world title scene. "I think we're knocking on the door now and you'll see it happen in the next 12 months" says Poxon "We have more than one hope too. Obviously there are Matthew and Ryan but we also have Scott Quigg and Martin Murray both ranked 6 by the WBA. Providing Craig Watson beats John O'Donnell next month, I think he can go a lot further too."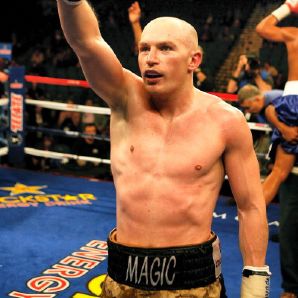 Hatton has emerged from his famous sibling's shadow to establish himself as the European welterweight champion and a fighter on the brink of a world title fight.  While he has recently engaged in trash talk with domestic rivals Kell Brook and Junior Witter, one senses Hatton would prefer to test himself against one of the bigger names in the division. Strongly linked to fights with young Mexican sensation Saul Alvarez and WBA champion Vyacheslav Senchenko, Poxon feels Hatton just has to bide his time and an opportunity will present itself. "We have plenty of options. If Alvarez and Senchenko do fight there is the winner of that fight but to be honest I think Matthew might have been used as a bargaining tool in their negotiations. Alvarez looks a sensational prospect but we won't know how good he is until he fights somebody who fights back. The IBF belt should also be available soon. You have to remember that Matthew holds the European belt which is one of the most prestigious titles there is".
"He isn't walking around with a number 13 on his back waiting to be a late substitute and we'll wait for the right opportunity. Matthew isn't the type of lad you have to push into taking a risk. He's desperate to be given a chance it's just up to me to make the fight as soon as the opportunity arises. "
Another fighter with big ambitions for the upcoming year is Scott Quigg.  The supremely talented super bantamweight has long been mentioned as one of the best young talents in British boxing. Whilst he already carries a high ranking with the WBA there are a number of mouth watering domestic matches which would be good ticket sellers and also establish whether the 22 year old from Bury is ready for the step up to world class. Quigg is the mandatory challenger for Nottingham veteran Jason Booth's British title and while Rendall Munroe will be hoping to stay at world title level, a fight with European champion Willie Casey would be a viable option should the Irishman come up short in his scheduled WBA world title fight with Guillermo Rigondeaux.
"I'm very open minded when it comes to Scott Quigg" says Poxon "He's very young and has tons of potential. He's highly ranked for the European and we could make that next if I want. I'm looking at where Scott Quigg will be this year, in 3 years and in 5 years time. There is no rush. Scott's progressed really well and is stopping people who don't get stopped.  I have a very good relationship with Scott and he's a pleasure to work with. He trusts me and just lets me get on with it. It's another case of making the right fights ".
In a recent interview, Commonwealth Middleweight champion Martin Murray made it very clear that he feels he is more than ready to take on the likes of British champion Darren Barker and European king Matthew Macklin. Poxon is working hard to make sure the St Helen's man gets his chance in 2011.
"Martin is ranked number 6 with the WBA and he's also moving up in the European rankings. Hopefully he will be made the mandatory challenger for the British title at either the next board meeting or the one after that. Once Barker and Matthew Macklin sort their business out Martin should be next. He really wants to get a move on".
It is easy for us fans to dream up and suggest the matches we would like to happen, however, all of the fights mentioned above would involve working with rival promoters. With promoters generally unwilling to give a competitor's fighter a shot at their prized assets, cross promotion is usually the biggest stumbling block when it comes to putting together the fights the fans want to see. Poxon assures fans that any problems in making the fights won't be for lack of willingness on his part.
"As long as it works for everybody and the fights are the right fights for us and our fighters then I don't see any problems. We'd be open to it".
As well as moving established fighters towards major title fights, Hatton Promotions has also taken a keen interest in building up their own prospects.  The novices of today are the stars of tomorrow and the sport needs a constant stream of exciting youngsters. One such fighter is Joe Murray.  The 2008 Olympian has reeled off 9 straight wins since turning professional and has all the attributes needed to become a major star.  "I believe he's moving up to featherweight this year and you would expect him to be knocking on the door of a British title shot." says Poxon "When you look at what James DeGale did recently, the other Olympians should be at around the same level. Joe will be there or thereabouts by the end of the year."
Murray is just one of a crop of fighters expected to continue their education in 2011. "Without wanting to upset any trainers by missing their kid's out we have super bantamweight Rhys Roberts, Matty Askin at cruiserweight and at light middleweight Tom Doran and Adam Etches who's a thunderous puncher and massive ticket seller" Poxon claims "We also have Richard Towers at heavyweight who I have a lot of faith in. As I said, we're very happy with the stable".
With a host of fighters poised to move up to the next level 2011 promises to be an exciting one for Hatton Promotions. Poxon doesn't have one particular aim for the coming year though. "We just need to carry on as we have been doing" he says. "As I said earlier, it was a good year and really hard work but if the kids push on, they'll get us to where we want to be".