Not a lot of heavyweights have leaped to the top of the division in such a short period of time. When current European and IBF International Champion Kubrat Pulev steps into the ring at the Sporthalle Hamburg, Germany, he will not only be fighting to defend his titles but also for the number one spot in the IBF rankings – all that within in three years since turning pro. The prodigy of coach Otto Ramin won the European Crown in Erfurt, Germany, in May against Alexander Dimitrenko. Now he is aiming to beat Ustinov and hoping to get a shot for the world championship.
Kubrat Pulev, your first title defense of the European Championship will be on September 29. How is your preparation going?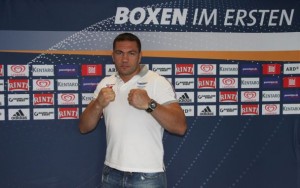 Kubrat Pulev: It is pretty much business as usual. I took a short break after the Dimitrenko fight. After that, I started with basic training in Bulgaria. Then I flew out to Berlin for two weeks to work on my athleticism. I went back to Sofia for a few days. At the end of this week, I will have finished my four-week sparring phase in Berlin. I feel good and I am prepared.
After Alexander Dimitrenko you have a new 'Big' guy waiting for you in Alexander Ustinov. What are your thoughts on the man who will probably be weighing in at around 300 lbs?
Kubrat Pulev: Alexander Ustinov is a mountain of a man. He is not only a few inches taller than me but also weighs considerably more than I do. That will tell in his punching power. I will have to be fully focused when I am inside the ring with him. The saying that one punch can decide a heavyweight fight is quite accurate for this fight.
What will your strategy look like against such a 'heavy'-weight?
Kubrat Pulev: I will definitely have to win this fight through my athleticism, speed and agility. He does not really have an amateur background and therefore I will also have an advantage when it comes to technical abilities.
This fight is not only about the European Title but also for the IBF top spot. How close is a possible shot for a world title?
Kubrat Pulev: I fulfilled a dream of mine by winning the European crown during my last fight. Now I will be defending my title for the first time. Being right at the top of the division is just a bonus. But for now, my priority is to establish myself as a top heavyweight in Europe when I face Ustinov. My team will make the decision about what ever comes afterwards. They know what is best for me.
How did the people in Bulgaria react to your successful title bid?
Kubrat Pulev: They were completely over the moon – I am the first Bulgarian to win the European Heavyweight Title. Whenever I am walking around the town people recognize me and thank me. Sometimes it actually makes me feel a bit awkward. Nevertheless, I am really proud of what I have achieved in the name of my country.
What outcome does the proud European Champion predict for the fight against Ustinov?
Kubrat Pulev: Alexander Ustinov is not someone who you can beat on the go. I am preparing as good as I can. That has worked so far against all my opponents. Therefore I am hopeful, that I will still be able to call myself European and IBF International Champion after the bout in Hamburg.