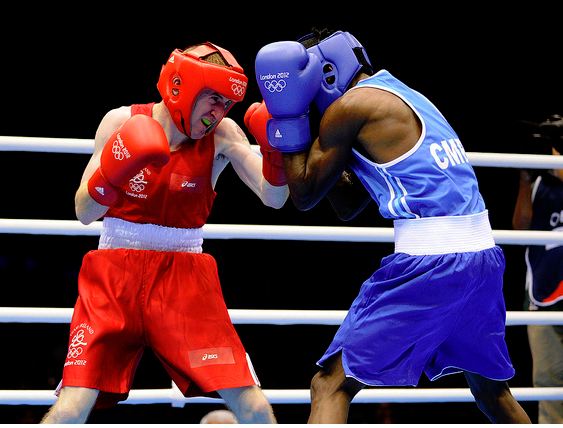 Triple Olympian Paddy Barnes might stand as the most decorated Irish amateur boxer ever but his prodigious talent wasn't always apparent, writes Glynn Evans.
The 5ft 4in pocket battleship from Belfast, who barely weighs eight stone with a Sunday roast inside him, snared bronze medals at both the Beijing (2008) and London (2012) Olympic Games, in addition to a European Senior title and two Commonwealth Games gold medals.
However, the man who was honoured with an MBE for his services to boxing and the community in the 2015 New Year Honours list experienced a rather inglorious induction to the fight game.
'I started boxing at 11 because all my cousins and friends were at it but I actually lost my first 12 bouts! I simply wasn't any good,' disclosed the 29 year old amateur superstar, who makes his pro bow over six rounds at the Titanic Exhibition Centre in his home city on Saturday week.
'It wasn't until I was about 16 that I started winning regularly. Even then, I could never convince the Irish selectors to send me to the European Juniors or World Juniors. They kept telling me I wasn't good enough!
'When I eventually got a break, I was the only Irishman to qualify for the 2008 Beijing Olympics and I returned home with a (bronze) medal.'
The flame haired dynamo's initial exposure to combat can be traced to a childhood spent on the streets of the troubled Ulster capital's north side.
'I was raised in Cliftonville – greatest football team in the world (!) – right on the 'Interface',' recalls straight talking Paddy.
'There was a 'peace wall' at the back of my house and every marching season there'd be slates, bricks, bottles flying to and fro. I witnessed it all firsthand but it was just a normal part of life.
'I never fought in the street myself. I was always the joker, the sly guy. Besides, I've always been the smallest in the crowd. I've three younger brothers but, from quite early, all were taller than me. Thankfully, I had plenty of tall friends so being 'picked on' was never an issue.'
His unpaid career spanned 18 years and well in excess of 200 contests – with roughly 125 in an international singlet – and was littered with stand out moments.
The tenacious terror reflects, 'As a wee boy, I once beat my good friend (future two-weight world champion) Carl Frampton. He beat me three times, mind. Even at 15 he had scary power.
'I don't think any other boxer from the UK has won Commonwealth Games gold medals back to back – I think that's largely why I got my MBE.
'But I'd say the two highlights were winning the 2012 European Seniors title because before that Irishmen weren't winning any medals at the Europeans, never mind gold, and placing first in the 2015 WSB rankings which guaranteed my qualification for the Rio Olympics.'
Having scaled the podium for a second time in London four years ago, Barnes, already 25, shocked the fight cognoscenti by spurning cheque book waving pro promoters to remain in his singlet for a further Olympic cycle.
'I carried on because I always dreamed of being Ireland's most successful ever Olympic athlete,' he explains.
'I always wanted an Olympic gold medal and, after deciding to stay on after London, I definitely thought that that was going to happen. Succeed or fail, I was always turning pro after Rio.'
Alas, the Irish flag bearer – operating at light-fly – was thwarted at the first hurdle, conceding a split decision to unheralded Spaniard Samuel Carmona Heredia.
'It's well documented that I'm massive for the weight. I usually make it handily enough but, in Rio, the weigh-in was just three hours before the fight and it simply wasn't enough time for me to recuperate. I was so drained,' disclosed Paddy.
'It was actually a close fight and, watching it back, even though I was below par, I thought I deserved to win. I threw more shots and was the aggressor.'
Dreams of Olympic gold extinguished, Paddy committed his talent to the fast expanding MGM professional set-up in Marbella, Spain and sets off in pursuit of world championship glory, something that eluded him in four cracks as an amateur.
'In some ways it was a bit of a waste of four years but at least my participation in the WSB (World Series of Boxing) will have helped fast track me into the pro game,' he claims.
'All told, I had eight bouts, and won the last seven. That's almost 40 rounds in pro conditions against some of the top boxers in the world.
'The fights were over five three minute rounds without head guards or vests and they used the pro scoring system. The only difference was that they used 10oz gloves whereas they'll be 8oz in the pros. I'll not need much of an apprenticeship against the journeymen.'
Finally free from the shackles of condensing his compact frame to 49kg, barnstormer Barnes foresees a glittering future within the profession.
'I'll start at flyweight but gradually work up towards bantam,' he concludes.
'My goal is to be a multi-weight world champion. I'll make it happen.'