Deontay "The Bronze Bomber" Wilder scored an important win this weekend in defeating Bermane Stiverne, yet in this instance the manner of his victory matters far, far more than either the win, Wilder keeping his "0" or his claiming the rather meaningless WBC strap. In a paradox, Wilder's win on points did more for his reputation than a knockout win ever could have.
Wilder Answers His Doubters
Going into the fight, boxing pundits seemed more or less evenly divided on who would win this fight. Those favoring Stiverne invariably pointed to the facts that Wilder hadn't fought past even so much as six rounds in his then-32 fights, and his 100% knockout rate had been earned what was, on average, less than stellar opposition. For them, this pointed to a protected fighter who would fold in the face of any opponent who could weather his power and exploit his deficits, and a fight that went into deep water would certainly drown Wilder.
By contrast, Wilder's supporters (including myself) thought his power would prove too much for the Haitian titlist, resulting in an early knockout. Everyone proved wrong, as Stiverne was tough enough to take Wilder's power, but unable to match the ex-Olympian's athletic prowess. Wilder was quicker on his feet and literally twice as busy as Stiverne, enabling him to win round after round. While Wilder couldn't crack Stiverne's chin, "B. Ware's" face showed how much hurt he had taken over those 12 long rounds.
Thus Deontay Wilder became the first American to hold a major alphabet strap since Shannon Briggs lost his nearly a decade ago, and although the croakers will go on croaking, he did so in a fashion that ought to dispel many of the doubts about his prowess. One would think that such a victory would command the attention of World Heavyweight Champion Wladimir Klitschko, but sadly that isn't likely to be the case.
Klitschko vs. Wilder? Don't Bet On It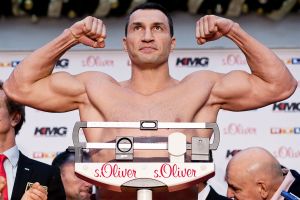 In the wake of Wilder's noteworthy victory, Big Wlad might change his plans and seek out a showdown with the Bronze Bomber at the earliest opportunity. However, that would be pretty far from what he was saying when last he spoke on the business of his next opponent.
Update: Klitschko vs. Jennings is official for April 25th
In an interview for RTL, Klitschko said he wanted Wilder's American rival Bryant Jennings. Failing that, he thought Shannon Briggs would make a good opponent. You read that right: Wladimir Klitschko wants 43 year old Shannon "The Cannon" Briggs as his second choice dance partner. The same guy I called on to retire this year. It might even be a likely match-up, given that Jennings will soon have a choice between whatever Klitschko is offering him to come to Germany and squaring off with Wilder in a lucrative HBO-televised bout. Briggs certainly has nothing better to do.
Although Klitschko has long since solidified his place as the World Heavyweight Champion, reasonable doubts still remain as to his place in the record books. Critics question the quality of his opposition, a reasonable criticism when one considers that Klitschko's own generation of heavyweight boxers was filled with misfits and underachievers (witness Briggs). I have previously described how the way to end those doubts would be to take down as many of the rising young lions in the sport as possible before retiring, and Klitschko's retirement must come soon.
Certainly Bryant Jennings would be a good choice to form part of Klitschko's endgame. Wilder, however, would be much better. Shannon Briggs would be a negative choice. Despite, and perhaps even more so because of, Briggs' endless and ridiculous antics in trying to bait Klitschko into a fight, no one wants to see Dr. Steelhammer fight Shannon the Cannon, and the bout would do nothing to help Klitschko cement his legacy.