During Sky Sports' broadcast of the big Canelo v Jacobs bill on the weekend, Sky pundit, Carl Froch seemed to insinuate that he is ready to return to the ring, with the target possibly his old foe, George Groves, whom he beat twice in a couple of epic contests in 2013/14.
The duo were reunited at the recent Dave Allen v Lucas Browne bill at the O2 Arena, with Sky Sports bringing them together in the ring, before they both formed part of the night's broadcast team. The hatchet seemed to have been buried, but Froch's weekend comments have re stoked old fires.
Talking with Adam Smith at the weigh in at the T Mobile Arena, Froch said that he would be getting back in the gym, and seeing how he feels, with the "boxing bug" never leaving him. He admitted that the big fight week atmosphere had got his juices going again. The 41 year old also remarked that "biologically" he feels 35.
Rumours swirled on social media about the former WBC, WBA and IBF Super Middleweight Champion facing off in a trilogy with former WBA Champion Groves in a Light Heavyweight contest.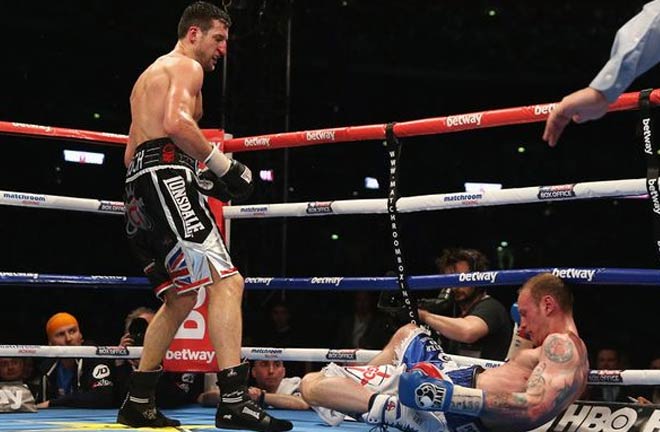 Froch seemed largely disinterested throughout the broadcast last Saturday night in Las Vegas, and visibly looks like a man with itchy knuckles every time you see him.
But the remarks may very well be a ruse for an event at the Piccadilly Hotel in Manchester on Saturday 28th September. Announced this week, "Froch v Groves – The Final Say" is a dinner show with interviews and entertainment that will hark back to the days of those infamous pair of fights.
Their first contest was an instant classic, with the young upstart Groves flattening Froch in the opening round, and giving the Nottingham man a torrid time, until "The Cobra" began to gain a foothold. The contest was controversially stopped in the ninth round by Howard Foster in Froch's favour, and a rematch was inevitable. The build up to their Wembley Stadium rematch was epic, with rubiks cubes and pushes and pulls taking centre stage. The two had developed a real hatred for each other, and Froch repeated the trick from Manchester, this time comprehensively knocking Groves out in eight absorbing rounds.
A third fight between the two would be bizarre, but in boxing, bizarre is pretty much the norm, and certainly wouldn't rule the prospect out. Depending on the success of their two man show in September, Froch v Groves part three could well be coming to a Sky Sports Box Office screen near you.