Roman "Chocolatito" Gonzalez was once widely regarded as the consensus pound-for-pound fighter in the world. The former four-division champion dazzled fans with his brilliant punch selection, flowing seamlessly from uppercuts to straight right hands, reminiscent of his idol – the late Alexis Arguello. That was just eight months ago but these days his name is barely a blip on the radar of even hardcore fans. Back-to-back career loses against arch nemesis – Srisikat Sor Rungvisai to include a vicious knockout in their sequel have all but ended the Nicaraguan's time as a top fighter.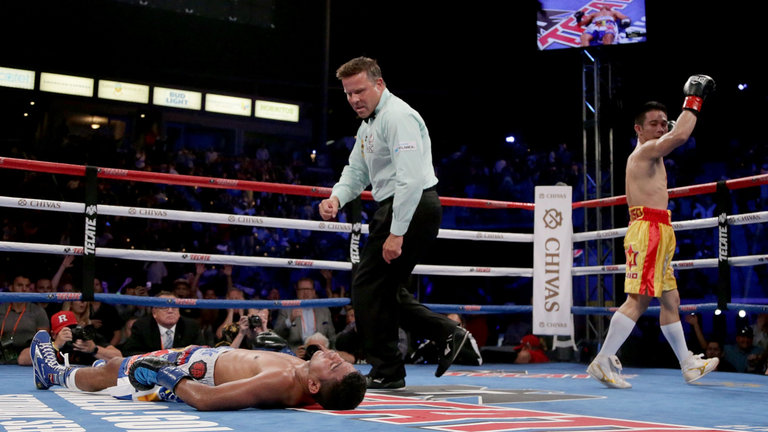 There seems to be no shortage of blame to go around. Some have been quick to write Gonzalez off as a mere hype job but that indictment falls upon his promotor and HBO. After all it was their relentless pursuit to make Gonzalez a media darling that precipitated his downfall. The 'hype job' assertion is also a bit unfair considering Gonzalez's workmanlike efficiency and quality wins over solid fighters like Estrada and Cuadras.
While Gonzalez may have been the unwitting victim of market forces beyond his control, other factors were at play. Sor Rungvisai posed a unique problem which Gonzalez had no answer (defense). Notwithstanding the controversial result of their first encounter, Sor Rungvisai was able to tag Gonzalez at will and mark his face up. Exciting fighters like Gonzalez have a tendency to rely too heavily upon their offense at the expense of learning proper defense. Gonzalez's porous defense and aggressive, come-forward/swarmer style was essentially tailor made for a crude slugger like Sor Rungvisai.
The struggles we saw in the Sor Rungvisai fight likely started as Chocolatito was moving up from light flyweight to junior bantamweight between 2011 and 2016. Although the pound gap between these lower weights is barely noticeable, it no less takes its toll upon fighters constantly trying to make weight. It can mean the difference between speed, punching power and punch resistance. Notice that Gonzalez was taken the full distance in back-to-back fights to include a close win over Cuadras just prior to Sor Rungvisia. Yet, he had recorded 10 straight stoppages going into these fights.
Gonzalez is keen on continuing his career and has WBA champion Kal Yafai in his sights. He was on a collision course to face Naoya Inoye in Japan to unify the titles just prior to the Sor Rungvisia fight. I admire Chocolatito's gutsy determination but we should dispense with unification talks in what has become a crowded field at 115-pounds. The little dynamo has plenty left in the tank but his team must take a more judicious approach to matchmaking. A move back down to flyweight and junior flyweight, where new challenges await and he was at his destructive best would be a step in the right direction.