Say what you will about "Super" Zab Judah, but the Brooklyn native has had a storied and entertaining career. My first memory of Judah dates back to more than a decade ago, when he bagged the USBA belt in a clash against the redoubtable Mickey Ward on ESPN. Since then his mix of speed, power and skill have carried him to multiple championships at 140 and 147 lbs, even if his lack of focus, discipline and professionalism have caused him to lose fights and drop belts that should have remained in his grasp.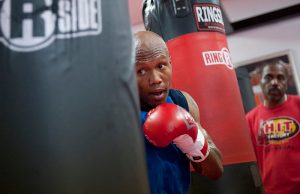 In my book, no career in modern boxing is more exemplary of taking one step backward for every two steps forward than Judah's. He is now set to face off with British boxing star Amir Khan in a light welterweight unification fight, and I can't help but think this is "Super" Judah's last hurrah.
I say the Khan fight is Judah's last hurrah for two reasons. First, I concur with many when I say Khan is the favorite to win this fight. If Judah's concentration slips, Khan's combination of speed and power will likely dump the Brooklynite straight onto his ass, and given Judah's record in big fights such a lapse is likely. Frankly, Judah tends to choke when faced with an opponent drawn from the top of the Top 10 list.
If his road to the IBF's red belt had been obstructed by opposition more formidable than Kaizer Mabuza and Lucas Martin Matthyse (and Judah barely won the tough Matthyse fight), he wouldn't be a world champion and might not be squaring off with Khan. Would you favor Judah against Marcos Maidana, Timothy Bradley, Devon Alexander or even Andriy Kotelnik? I wouldn't, and I believe Judah is going down on July 23.
Those names I listed point to the second reason why this might be Judah's last hurrah. Zab Judah is now 33 years old, and while I would never describe him as shopworn, it is clear that he is becoming rough around the edges. In the wake of a Khan loss, Judah would have little time left to come back for yet another championship run. Everywhere he might turn, his path back to a crown is blocked by stiff opposition or technical problems.
At 140 lbs, his only choice after Khan would be Timothy Bradley. If he goes back to 147 lbs, he labors under a proven size disadvantage and in a division dominated by Manny Pacquiao. The other legitimate route would be to face the winner of Ortiz vs. Mayweather (truly a daunting prospect there: a rematch with Mayweather or facing the puncher who beat him). Viacheslav Senchenko's and Jan Zaveck's titles offer the path of least resistance at 147 lbs, but I don't see the promotional dynamics of either bout working out without HBO agreeing to pay a pretty penny to make it happen. Worse would be a loss to one of those Slavic barely-knowns, and Judah has suffered upset losses to big 147 pounders before. (Remember Carlos Baldomir?)
So, just as it is hard to imagine Zab Judah pulling it together and emerging from July 23rd as the WBA-IBF Light Welterweight Champion, it is hard to imagine him getting back into title contention. At 140 lbs or 147 lbs, Judah might see one more big elimination fight over the #1 contender's slot and a title shot, but by then he will be older and a little more worn, so I see him losing that one too. From then on, if Judah stays in the game, it will be as a late 30s gatekeeper.
Comments
comments