Liking both Boxing and MMA, on a Weekend Like this One, It's All About the Sweet Science:
When the Amir Khan/Marcos Maidana fight was announced, us in the boxing community were excited to see the latest installment of the "Boxer" vs. the "Puncher". The good looking next "Star" vs. the down and dirty "Brawler". Combine that with the sensational Bantamweight tournament on Showtime, and yes, the UFC pay-per-view card, and it was another night of tough decisions for fight fans that lack the luxury of multiple TV's, or the patience/discipline to watch fights recorded on their DVR.
With the MMA's explosion into the mainstream in recent years, these same night cards have become more and more frequent. As a boxing journalist, I have no qualms about admitting that I also watch and enjoy Mixed Martial Arts. And I'm not one of these meatheads either, who wear jeans so tight they look painted on and a shirt with the image of a crow, and blood coming out of his mouth… I know my MMA! Ask some insta-UFC fans who Pat Smith or Keith Hackney is, and they'll look more stumped than me trying to get out of a darce choke.
Growing up in a house full of fight fans, one night we stumbled across a pay-per-view event featuring cage fighting that I want to say cost $14.95 to purchase. It was called "The Ultimate Fighting Championship".
We loved it. Although raw and different than boxing, it was still fighting and fed our appetites. I mean if you enjoy pizza and have enough of a craving, are you really going to turn down Papa John's because it's not Domino's?
Nowadays, if I'm not covering the boxing that's on and there is a UFC or Strikeforce event the same night, I usually watch with friends or family. Since all my friends prefer MMA, they know to have one TV in the other room on the boxing for my brother, my nephew, and I. It's a Knox thing.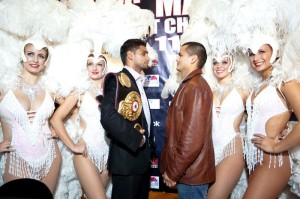 For the first time in recent memory though, I found myself with little to no urge to even know what was going on in the UFC card. I stayed home and watched another fantastic night of action in boxing. And for the third week in a row, there was another contestant for fight of the year. Between Katsidis/Marquez, Soto/Antillon, and now Khan/Maidana, you could argue that this has been the best action in consecutive weeks for "The Sweet Science" in quite some time, dating back to glory periods such as the 1980s.
Diehard fight fans are always going to be built different. When casual fans bash our sports, we take offense to it… and not like a soccer fan. One of my dear friends is an Italian and loves his European futbol. When I dig at him about the sport just to get under his skin, he blows me off in a more regal tone. When he does the same with me about boxing though, the response is not suitable for children.
So often, boxing and MMA are always competing. Always trying to argue which is superior. For me, I like being able to take a step back and know that on a night when one of the most prestigious honors in sports, the Heisman Trophy was awarded to the nation's top college football player, it took second fiddle to great action inside a couple of rings and a cage scattered throughout North America.