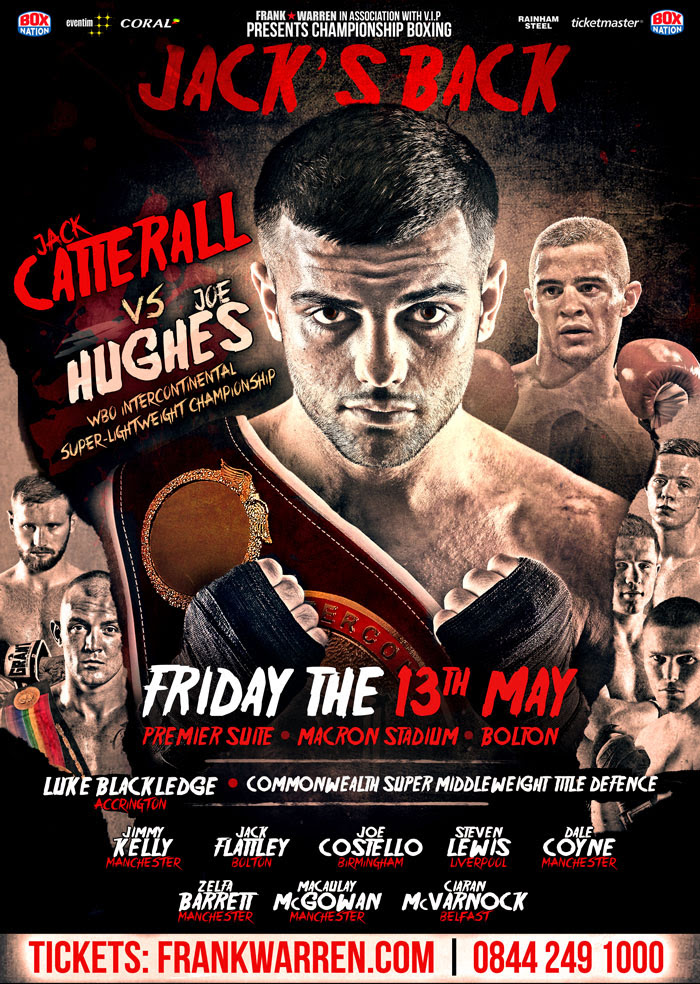 Jack Catterall will be the headline attraction on "Jack's Back" on Friday May 13th  at the Premier Suite in the Macron Stadium, Bolton. The undefeated Chorley star has his second fight at the home of his football team Bolton Wanderers against Malmesbury rival Joe Hughes, with the fight an Eliminator for the British title.
Catterall, 22, has been tipped as the new Ricky Hatton with his all-action, thrilling, hard-hitting style that has taken him to an unbeaten 14 fight record with 9 coming by knockout and claiming the Central Area, WBO European and Intercontinental belts on the way.
He fought at the then Reebok Stadium in March 2013, stopping Carl Allen with a brutal performance and aims to put on another devastating showing on his 'homecoming' against Hughes.
"I'm really looking forward to returning to the Premier Suite in the Macron Stadium for the first time as a champion and putting my title on the line against Hughes in what will be an exciting fight for my home fans," Said Catterall.
"This is the first time I've headline a show by myself and I aim to put on a fantastic show for the fans as I look to do in all my fights and give them real value for money so that they go away and can't wait for the next one,"
"I know Hughes fancies the job and will be coming to my home patch looking to upset the odds and beat me. He comes in with a good record, he's the English Champion he's fought all over the country so coming to my hotbed won't bother him,"
"There's no doubt in my mind at all that I'll beat him, though. There's no way that I'm going to let him come to patch and beat me. I've got the skills to take him out at any time."
Friday 13th might be superstitious to some, but Catterall is relishing the prospect of fighting on the superstitious day.
He added, "It's only going to be unlucky for Hughes once I've gone through him, I've got no worries fighting on that date because I'm a winner in everything I do."
Hughes, 25, has a top record of 14 wins from 15 fights with only one early career points loss in March 2012.
Since then he's remained unbeaten and a great run of wins started in October 2014 when he stopped Phillp Bowes to win the Southern Area title with a tenth round stoppage. Last year saw him beat Jaba Shalutashvili in April to win the IBO International title with an eighth round stoppage, followed by a ten-round points win over Anthony Hardy to claim the English title in July. A first round KO of Tomas Barunek came in October and a rematch against Upton in December saw him retain his title with a points win.
"This is a fight I've wanted and really fancied and I know I've got the beating of Catteral," Said Hughes.
"I've come up through the sport the hard way, fighting away from home and not getting any favours and I'm not getting any favours against Catterall in his home town, but I wouldn't have it any other way,"
"It gives me the fire and the drive to perform and make sure I give it my all to get the win. Believe me, Catterall is in for a real, real, shock if he thinks he's got some easy homecoming because I'm giving him everything I've got,"
"The show is billed as Jack's Back, but Jack will be flat on his back but time I'm finished with him."
An action packed card features Accrington hero Luke Blackledge defending his Commonwealth Super-Middleweight title in the chief support; the return of former WBO World Super-Welterweight title contender Jimmy Kelly from Manchester; Liverpool super-lightweight Steven Lewis; Birmingham lightweight Joe Costello, Bolton middleweight Jack Flatley, Manchester super-welterweight Macaulay McGowan and lightweight Zelfa Barrett and Belfast's Ciaran McVarnock.