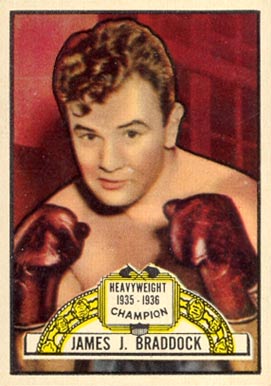 SCP Auctions is thrilled to announce James J. Braddock's 1935 Ring Magazine Heavyweight Championship Belt from the famous "Cinderella Man" victory over Max Baer as part of their Winter Premier Auction that runs through Saturday, January 21st.
On June 13, 1935, James J. Braddock (the "Cinderella Man") defeated heavily-favored Max Baer at Madison Square Garden to win the World Heavyweight title. At the time, the fight was called "the greatest fistic upset since the defeat of John L. Sullivan by Jim Corbett."
The victory is still considered by many the biggest upset in boxing history. The Ring Magazine presented Braddock with the Heavyweight Championship belt to honor the epic victory, one that completed a miraculous career comeback for the local working class fighter from Hell's Kitchen dubbed the "Cinderella Man" by New York newspaper columnist Damon Runyon.
The boxing community will also be excited to find Rocky Marciano's fight-worn and signed gloves from the "Jersey Joe" Walcott III bout on May 15, 1953 up for bid. On that May night in 1953, Marciano and Walcott squared off for a second time, this time at Chicago Stadium. The 185-pound Marciano, a 16-to-5 betting favorite, was looking to improve to 43-0 with his first title defense, while Walcott, weighing in at 198, sought to even the record and win his crown back.
With less than a minute to go in Round 1, Walcott threw a jab and Marciano countered with a quick left hook and right uppercut combo that sent Walcott sprawling on his back. Once the referee reached 10, Walcott hoisted himself to his feet but the fight was over. Though he complained that he had received a fast count, Walcott's night was done. It was the last time Walcott ever fought. These are the Benlee red leather boxing gloves that Marciano wore on that short, memorable night in the Windy City.