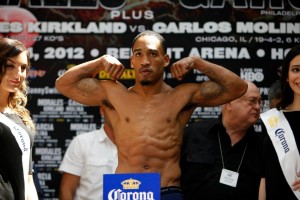 James Kirkland was arrested over the weekend for assault, adding another chapter to his outside-the-ring drama that has curtailed his career. Kirkland is accused of causing bodily harm to a family member. Details are scant, but after already serving a pair of jail stints during his career, it's hard to not wonder if this is it for the "Mandingo Warrior."
Kirkland has been inactive for 16 months, so this latest arrest just adds to his growing problems. Embroiled in a promotional squabble with Golden Boy, Kirkland has been on the shelf and this latest run-in will serve to only postpone his return, whenever that was going to be.
One of the more TV-friendly fighters of his era, Kirkland, 29, was about to get a title shot and was peaking before buying a gun at a gun show and going away for a few years. He came back and lost to Japan's Nobuhiro Ishida by 1st-round knockout. He managed to come back and won a pulsating encounter with Alfredo Angulo. His last fight was a win over Carlos Molina, even if he did rely on a iffy DQ to salvage victory from the jaws of defeat.
Kirkland then started beefing with Golden Boy over his potential pay for a Canelo fight. Word is he was set to earn a million, but he wanted close to $3 million. That led to a long layoff, the worst thing for a guy like Kirkland, as this weekend's events illustrate. Kirkland's story is now a a cautionary tale, an example of what happens when fighters go astray.
Let's face it, Kirkland was probably not going to get back to the top of the loaded 154-pound division in his current state. Following his second incarceration, he returned in diminished form. He managed to beat Angulo and was coming on against the slick Molina, but he seemed a tick off his prior form.
At the same time, his status as one of the sport's more entertaining fighters guaranteed him some nice paydays and exposure. He would have at least had some opportunities to further his career in a big way. His judgment in rejecting fights and trying to take Golden Boy to court was iffy enough. But the incident this weekend shows he doesn't have his head screwed on right, or anything close.
Time will tell what happens with Kirkland. Again, details are sketchy and one never knows how it's going to turn out. One thing is certain, however, and that is that Kirkland has really done a bang-up job screwing up his career. And for that, he has no one to blame but himself. It's s shame because for however you feel Kirkland would have fit in with the overall big picture of the 154-pound division, there was no doubting it would have been fun watching him try.
Comments
comments