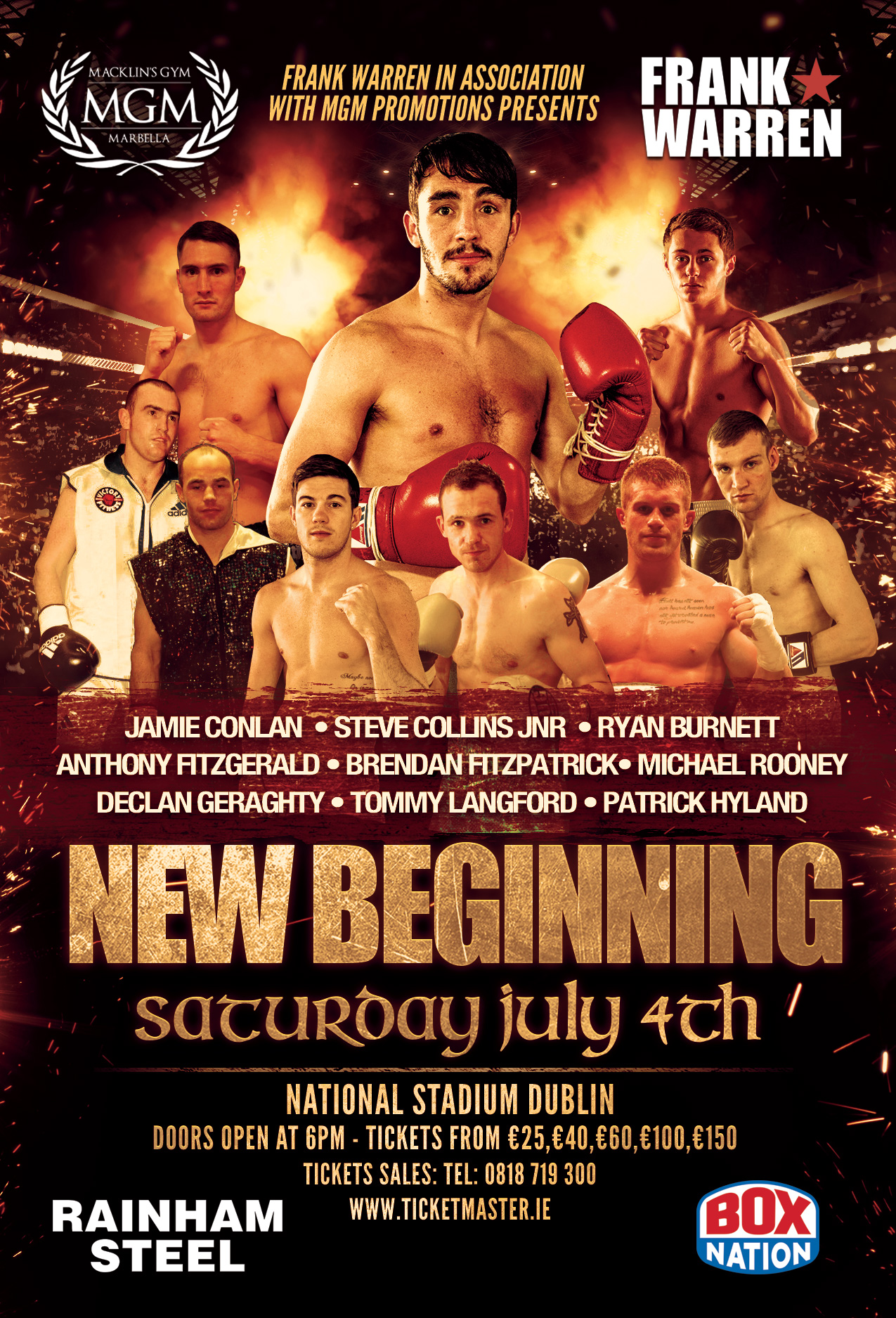 Boxing returns to Dublin on Saturday July 4th with hot unbeaten talent Jamie Conlan at the National Stadium. Conlan headlines 'New Beginning',  promoted by Frank Warren, featuring some of the best up-and-coming Irish talent, including Belfast's hot-shot Ryan Burnett; Dublin prospects Anthony Fitzgerald, Declan Geraghty, Brendan Fitzpatrick, and son of the legend Steve Collins Jr.
Belfast ace Conlan, known as the 'The Mexican' for his all-action style, is one of the most exciting boxers coming through at the moment and has thrilled fans and media with his hard-hitting performances.
The 28-year-old seized the title in April last year, stopping Benjamin Smoes inside seven exhilarating rounds. He followed that up with a quick first defence against Gabor Molnar in June, halting Molnar in the third round and demonstrated the firepower he carries in both hands.
In Conlan's last fight in September, he successfully dealt with his first Mexican test against Jose Estrella to outbox the tough veteran over ten rounds to capture the WBO Intercontinental title and elevate himself inside the top ten of the WBO World rankings.
Conlan's challenger at the National Stadium will be confirmed shortly, but he's thrilled to return to Dublin for this first time in over five years – when he then destroyed Itsko Veselinov in five rounds in his second pro fight – to headline a show in a championship title fight.
"I can't wait to be back fighting in the National Stadium and give the fans what they want, excitement!

"It's the home of Irish boxing and it's fantastic to be headlining the first Frank Warren show in association with MGM Promotions in Dublin. The public there are crying out for shows and Irish boxing is on the rise again with big names like Carl Frampton, Andy Lee and Mathew Macklin, plus a new generation of talent coming through like myself, Ryan Burnett, Anthony Fitzgerald, Declan Garaghty and more who all feature on this show. I believe that it's the start of many more big nights to come in Ireland.

"It's going to be a fantastic night with an electric atmosphere inside the Stadium and tickets are going to fly out for this one so the fans had better get in early to get them or they're going to be sold out!

"For me this is a great opportunity to showcase my skills again and prove that I'm a real contender for the world title as I'm working my way up the rankings to the top. The super-flyweight division is certainly heating up in the UK and on the world scene and in the next few fights you'll see me rise even further."
Top unbeaten Birmingham talent Tommy Langford will challenge for his first pro-title when he contests for the Vacant WBO Intercontinental Middleweight Championship.
The undefeated 25-year-old has looked red-hot in his 12 fights to date and impressed last time out with his five-round demolition job on Wayne Reed in February to secure his title shot.
Another Birmingham prospect, unbeaten lightweight Michael Rooney, completes the card as he continues his development in a four-round contest.