Adonis "Superman" Stevenson (21-1, 18 KOs) is in his first title defense against Tavoris "Thunder" Cloud (24-1, 19 KOs), and a stacked card at historic Bell Centre in Montreal also showcases a series of other world-class fighters in action.
First, Jean Pascal (22-2-1, 16 KOs) returns to the ring for the first time since defeating Aleksy Kuziemski last December. His opponent is American George "Honey Boy" Blades (23-4-2, 16 KOs). The last time the WBC #2-rated Pascal did not participate in the main bout of a major event was back in December of 2007, when he faced Brian Norman at the Bell Centre.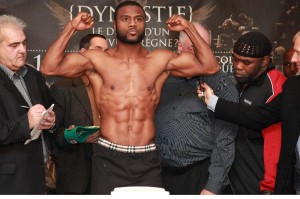 "It is a privilege and a luxury to have Pascal's participation in Saturday night's event," said President Yvon Michel of GYM.
"He is still considered one of the biggest stars in the light heavyweight division and we all look forward to seeing him back in action. He's fighting for all the right reasons on Saturday and it was good to see him happily smiling during training camp. Currently there is no opponent who is more important for Jean's career than Blades. I expect an inspired performance from him as HBO executives watch him in action."
Another light heavyweight contender from Montreal, whose return has been long anticipated, is Eleider "Storm" Alavarez (12-0, 8 KOs). The WBA and WBO #4 Alvarez faces fellow Colombian, Edison "Pantera" Miranda (35-8-0, 30 KOs).
Alvarez has won his last three fights by knockout, including the last two against the world-rated opponents Danny McIntosh and Nicholson Poulard. Alvarez wants his world title shot soon and a convincing victory on his part could precipitate many things in the short or medium term.
Miranda is a dangerous puncher, whose early meteoric rise resulted in a pair of unsuccessful world title fights, seeks to revive his career. According to his promoter Leon Margules, Miranda doubled his training workouts, "Edison is only 32 years old but he is aware that he must absolutely win September 28th because it is his last chance, explaining why he has trained in Florida with so much determination.Because he and Alvarez are both Colombian, their fight is so much more personal, passionate and emotional for both warriors."
David Lemieux (29-2-0, 28 KOs), will also be in action Saturday night at Bell Centre. Now ranked #14 by the International Boxing Federation (IBF) and #15 by the WBC, Lemieux takes on American upset-specialist Marcus Upshaw (15-10-2, 7 KOs) . The latter is well-known in Quebec having shocked Quebec fighter Renan St-Juste three years ago in Quebec City.
"At 6′ 4" with an aggressive style, it is possible that David may look bad at times in this fight, but this is the kind of strong and complicated opponent that will allow David to grow," Lemieux' trainer Marc Ramsay commented. Lemieux has won his last four fights by KO and his opponents lasted a total of only six rounds during this sequence.
Welterweight Antonin Decarie (27-2, 7 KOs) fought his last two times before HBO cameras and, despite losing his last fight to Argentina Carlos Abregu (35-1, 28 KOs), he showed the right stuff to evolve into a potential world champion. The 30-year-old Decarie, rated #10 by the WBC, still has a very bright future ahead of him. He has also been selected to represent North America in the WBC's World Cup tournament that should get underway in late 2013. In a six-rounder to stay active, Decarie will face the Frenchman Salim Larbi (17-3-2, 5 KOs) this Saturday evening. Larbi fought for the WBO world title as recently as 2012.
Kevin Bizier (20-0, 14 KOs), of Quebec, will also be back in action after fully recovering from a painful ankle sprain. His opponent is veteran Giuseppe Lauri (53-14, 31 KOs), a native of Italy who now lives in Hungary. Bizier could be one of the main headliners of a GYM event tentatively scheduled for November in Quebec City.
Finally, Saturday night's event will allow former world amateur champion Artur Beterbiev (1-0, 1 KOs) to continue learning, this time in a six-round, light heavyweight fight. To demonstrate the confidence that GYM places in Beterbiev, in only his second professional outing, the Russian prospect will fight a veteran of 47 professional fights, Rayco Saunders (23-22-2, 10 KOs). It's highly usual for a young prospect like Beterbiev, who hasn't lost since a cut cost him an amateur match in 2003, to fight a veteran such as Saunders so early into his pro career.