Fight pick & preview: Pascal vs. Dawson Rematch
On May 25 in Montreal, WBC Light Heavyweight Champion Chad Dawson defends against former conqueror Jean Pascal. This fight will be almost 3 years after their first encounter, which Pascal won in an 11th-round technical decision, after Dawson suffered a fight-ending cut just as he appeared to be rounding into shape. It was an upset win for Pascal, one that led to some big fights.
Since that day in August 2010, both Dawson and Pascal fought Bernard Hopkins twice each. The results were all over the place, as illustrated by their 1-1-1 with 1 no-contest combined record against B-Hop. Dawson certainly did the better of the two. Dawson-Hopkins I ended with B-Hop not able to continue after being slung to the mat in the second round–a result that was first ruled a TKO win for Dawson, but later changed to a no-contest. In the rematch, Dawson won a majority decision that should have been unanimous.
Date: May 25, 2013
Site: Bell Centre, Montreal, Quebec, Canada
Weight Class: WBC Light Heavyweight Title: 12 Rounds
Jean Pascal, 27-2-1 (16 KOs), Laval, Quebec, Canada
Vs.
Chad Dawson, 31-2 (17 KOs), New Haven, Connecticut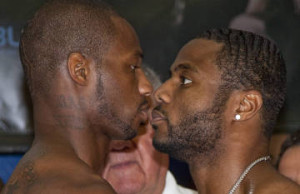 Pascal, conversely, looked terrible against Hopkins, first getting a gift-wrapped draw before being schooled en route to a unanimous decision loss in the rematch. Since beating Dawson, his only triumph was a December 2012 win over the journeyman Aleksy Kuziemski. Now 30, Pascal looks to breathe some much-needed wind into his sails against a man he previously beat.
You have two fighters here who are coming off some hard times. For Dawson, however, his woes are more recent. In September, he took on 168-pound champion Andre Ward, getting dropped three times en route to a demoralizing 10th-round TKO defeat. Sure, it's tough dropping 7 extra pounds to fight a talent as robust as Ward, in his hometown to boot. But his performance was so bad that you have to wonder if there will be any lingering physical or mental damage seen in this fight.
Pascal has been injured. His shoulder has been giving him problems, leading to this period of inactivity that has seen him fight just once since April 2012. Still, there is a feeling on the part of some that he was lucky to fight a version of Dawson that seemed out-of-it in their first fight. When Dawson recognized the gravity of the situation, he started pouring it on. It's not outside the realm of possibility that Dawson was on his way to a late-stoppage before the cut ended his evening.
If Dawson can come into this fight with more urgency, which one figures he would, it should be tough on Pascal. Dawson just got done fighting the highly-cerebral duo of Hopkins and Ward. Pascal is not that kind of fighter. He's a physically-gifted guy, but by no means a clever craftsman. Dawson should find that to his liking, where his superior physicality can rise to the top.
Pascal is a fighter who relies on surprise attacks. He does nothing, then explodes with a surprise ambush. Rinse and repeat. He doesn't really work well outside of that strategy. And when dealing with a chess-master like Hopkins who doesn't cooperate, his style is rendered somewhat moot. What he has going for him here is that Dawson is also not terribly clever in the ring. What he has in size, skills, and talent he lacks in craft and thoughtfulness.
Still, I thought the biggest contributing factor to Dawson's previous loss to Pascal was "Bad Chad's" decidedly passive demeanor. He seemed disinterested, like he could just show up and easily outbox his foe, who had only fought a few times at 175 before. At the time, Pascal was not considered a terribly-threatening foe. Look for a more urgent Dawson to surface in this fight.
It can be difficult to gauge a fight like this. It's unclear if we're dealing with depreciated versions of formerly-robust talents. Dawson has to prove he still has it after the lopsided Ward debacle. Meanwhile, Pascal has to show that, unlike some past Hopkins victims, that he has psychologically recovered from being taken to school by a man old enough to be his dad.
Pascal vs. Dawson II Prediction
Dawson was thrown off by Pascal's style in the past fight. It took him too long to adjust and when he did–it was too late. He probably expected the squatter Pascal to try to get on the inside, rather than resort to a moving-ambush style of fighting. I look for Dawson to be better-prepared and motivated for this. If Dawson can employ a high work-rate, look for his superior skills to earn him a clear unanimous decision victory.
Prediction: Chad Dawson wins by unanimous decision.