Press Release:

Taylor vs. Abraham to be held on October 17 in Berlin, Germany at the o2 World Arena
Former middleweight champion Jermain Taylor knows what it takes to win – finish strong. And now Taylor has changed his training camp from Miami, Florida, to prepare for his explosive October 17th fight with Arthur Abraham in Berlin, Germany at o2 World. Taylor is going through a grueling 10-week training camp at former heavyweight champion George Foreman's gym in Houston, Texas, the George Foreman Youth Center.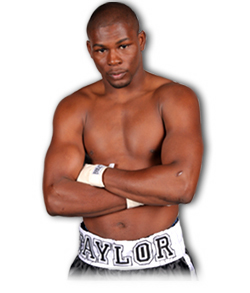 The Taylor-Abraham fight is the start of the historic inaugural Super Six World Boxing Classic round-robin six fighter tournament, featuring the class of the Super Middleweight division from home and abroad. Five of the world's top boxing promoters have collaborated with SHOWTIME Sports to facilitate this epic tournament. Lou DiBella of DiBella Entertainment, Dan Goossen of Goossen Tutor Promotions, Mick Hennessy of Hennessy Sports, Gary Shaw of Gary Shaw Productions LLC and Wilfried and Kalle Sauerland of Sauerland Event will promote the tournament which begins October 17th and runs through spring 2011.
Tickets for Taylor vs. Abraham are now on sale by calling (01803/206070) or visit http://www.o2world.de/ – (Euro – €15, €29, €39, €60, €80, €150, €250, €1000) / From USA (01149-1803/206070) / $22, $42, $56, $86, $115, $215, $350, $1,434).
Taylor (28-3-1, 17 KO's) was stopped late in the 12th round, coming within 14 seconds of winning the super middleweight title in his last bout with Froch. Coming that close and not tasting victory is something that Taylor said will never happen again. That's why this training camp – Taylor's first in Houston – is different.
"It was time for a change from Miami. I got to comfortable and there can be a lot of distractions in Miami. I like the training environment here in Houston. The gym is located in a very remote part of Houston which allows total focus and commitment," said Taylor. "Things have been very intense and serious in camp. Everyone is working hard. There's going to be a lot of focus on the 10th, 11th, 12th round if the fight should go that far. Those are the rounds I usually get tired. I will be prepared to make sure I have the last few rounds under control."
George Foreman, who has 68 knockouts among his 76 career victories, has occasionally stopped by the gym and spoken with Taylor at camp, and Taylor has done some of his early morning runs with Foreman's sons.
"George will stop by the gym sometimes and observes our workouts. He has offered some good advice, not only about boxing , but about life in general. When George talks you can't do anything but listen," said Taylor.
But this camp isn't about reminiscing with boxing legends. It is about working to regain Taylor's place among boxing's elite, where he rightfully belongs.
"For this fight it's about stepping up to the plate and delivering. I have to dictate and control this fight," said Taylor.
Ozell Nelson, Taylor's trainer, knows that this tournament gives Taylor an opportunity to show the boxing world that Taylor is still a force, and should not be taken lightly.
"Jermain is going to come out and shock the people of Germany when he beats their hometown hero," Nelson said. "I know most people in the boxing world have written Jermain off. We're going back to the basics that got us here. It would be a huge mistake to think Jermain doesn't have anything left in the tank."
Abraham (30-0, 24 KO's) is the reigning middleweight champion and fighting in his hometown, but Taylor isn't concerned about the odds against him.
"I know Arthur's fighting in his hometown," Taylor said. "I'm no stranger to fighting overseas, being a former Olympian I know what it's like. I know he's going to have the crowd behind him. I'm going to keep the crowd out of the fight. I'm going to make him fight a way he doesn't want to fight. He's a tough fighter, but I will be ready for the challenge."
The fans are certainly going to be ready for what is expected to be a non-stop action fight between two of the most exciting boxers in the super middleweight division.
"This tournament is historic, and on Oct. 17, Jermain Taylor is going to solidify himself among the great 168-pounders in the world by defeating the reigning middleweight champion Arthur Abraham in his adopted hometown of Berlin." Lou DiBella, Taylor's promoter, said. "We're looking forward to coming to Berlin, and disappointing some of the greatest boxing fans in the world."
More Quotes
"For this fight it's about stepping up to the plate and delivering. I have to dictate and control this fight."…Jermain Taylor
"It would be a huge mistake to think Jermain does not have anything left in the tank."…..Ozell Nelson/Trainer
"We're looking forward to coming to Berlin and disappointing some of the greatest boxing fans in the world."…..Lou DiBella/Promoter
Photo Credit: Team Taylor/DiBella Entertainment