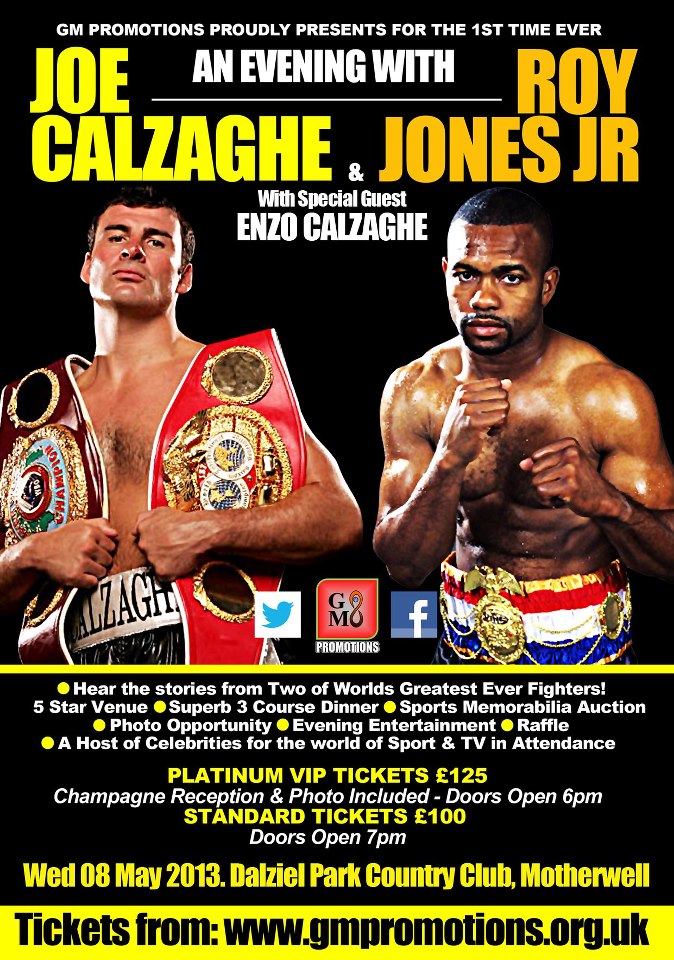 Former two weight world champion Joe Calzaghe has revealed he is coming back to Scotland on May 8th for a dinner show in which he will take center stage with former opponent Roy Jones Junior, during which both fighters will discuss their careers and answer questions from the crowd. This will be the first time both fighters have come face to face since there fight in November 2008, and will be the only opportunity to see them both on the same dinner show in the UK this year.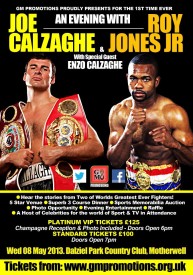 After a successful career, in which he racked up a mammoth 46 wins in both the Super Middleweight and Light Heavyweight division Calzaghe's only professional fight in Scotland came with a points victory over Kabary Salem in October 2004.
Although he racked up a points win, he does regret not fighting in Scotland more ,"As a professional you have to be prepared to travel to fight sometimes, and my career gave me some mammoth nights to fighting Bernard Hopkins in Las Vegas to beating Mikkel Kessler in the Millennium Stadium, but I do regret not fighting up in Scotland more."
He adds, "While my fight against Salem wasn't maybe the most high profile of opponents, the Scottish crowd got behind me and gave me a good backing." Laughing he adds, "They took to me as if I was one of there own."
Looking forward to coming back to Scotland, and sharing a table as opposed to a ring with Roy Jones Jnr, the 'Pride of Wales' explains why he is looking forward to hearing him discuss his career. "As a fighter Roy done it all, he was a multiple world champion- even went to Heavyweight to beat John Ruiz to lift that belt. He used to fight under the alias 'Superman' and when you see what he achieved you can see why he was called that. He is definitely one of the best fighters of the last few decades, and it was a pleasure to share the ring with him."
GM Promotions proudly present "An Evening with Joe Calzaghe and Roy Jones Jnr", in which both legends will share the stage for the first time since there fight in 2008, at Dalziel Park Hotel & Golf Club, 100 Hagen Drive, Motherwell on May 8th.
Tickets start from £100 for general admission and Platinum VIP tickets are £125, which includes a photo and a three course meal. Tickets and further details are available from www.gmpromotions.org.uk or on twitter @GM_Promotions or by calling 01698 209190