Junior Lightweight sensation Joel Diaz Jr. kept his perfect record in tact following an impressive fifth round stoppage of title contender Emmanuel "The Butcher" Lucero Saturday evening at the Emerald Queen Casino in Tacoma, WA.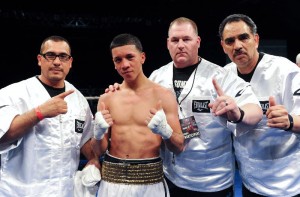 Topping Halquist Productions' "Battle at the Boat 87," Diaz was in complete control throughout the contest. The aggressive 20-year-old Palmdale, CA native decked Lucero in the third round and dominated the fourth, giving spectators a preview of what was on tap. In the fifth, Diaz came out like a man possessed and decked Lucero twice, forcing the referee to mercifully halt the bout at 1:37.
"I knew Lucero was going to be a tough opponent," said Diaz. "My goal was to box the first few rounds and feel him out. Once I started to figure him out, I turned up the heat and got him out of there. I'm going to get right back in the gym and await my next fight from my promoter Mario Yagobi of Boxing360."
Diaz improves to (10-0, 9 KOs). Lucero, a Scranton, PA native from Mexico City, slips to (23-11-1, 14 KOs).
"I'm extremely impressed," promoter Brian Halquist said of the performance. "Diaz is an excellent young fighter who prides himself on entertaining the crowd. The fans here loved him and we hope to have him fighting on one of our cards again in the near future."