Friday Night Fight Results
On Friday night in Santa Fe, New Mexico, John Molina Jr. got back in the "W" column in a very big way, scoring a 4th round knockout over Dannie Williams in what was a very important crossroads fight for both men. Molina was coming off his miserable outing last September against Antonio DeMarco, when the then WBC Lightweight titleholder scored a 1st round TKO against him. Here, he was the one dishing out the early damage, and it's a win that immediately puts him back into contention in the division.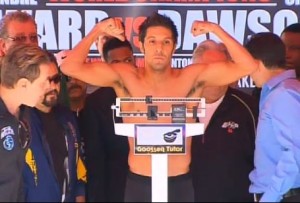 In the opening rounds, each man had his moments, although Molina was landing the harder shots. In both the 1st and 3rd rounds, he landed big left hooks which seemed to be setting the stage for more fireworks to come.
In the 4th though, it wasn't the left which lowered the boom, it was an overhand right which landed on the top of Williams' head. The punch sent Williams careening to the canvas. He barely staggered up before the count of 10, although he ended up on the wrong side of the ropes, standing on the outer ring apron. The referee waved off the action.
For Williams, it's two losses in his last three fights, including a previous 10-round decision defeat to Hank Lundy, a fighter whom Molina defeated via TKO in 2010. He falls to 22 (18) – 3, and is need of some major rebuilding.
Molina improves to 25 (20) – 2, and begins to erase that stain of that shocking quick defeat against DeMarco. He'll be able to position himself for another big opportunity and potentially another title shot with another win or two, and likely will work his way back into the top 10 of the Lightweight division.